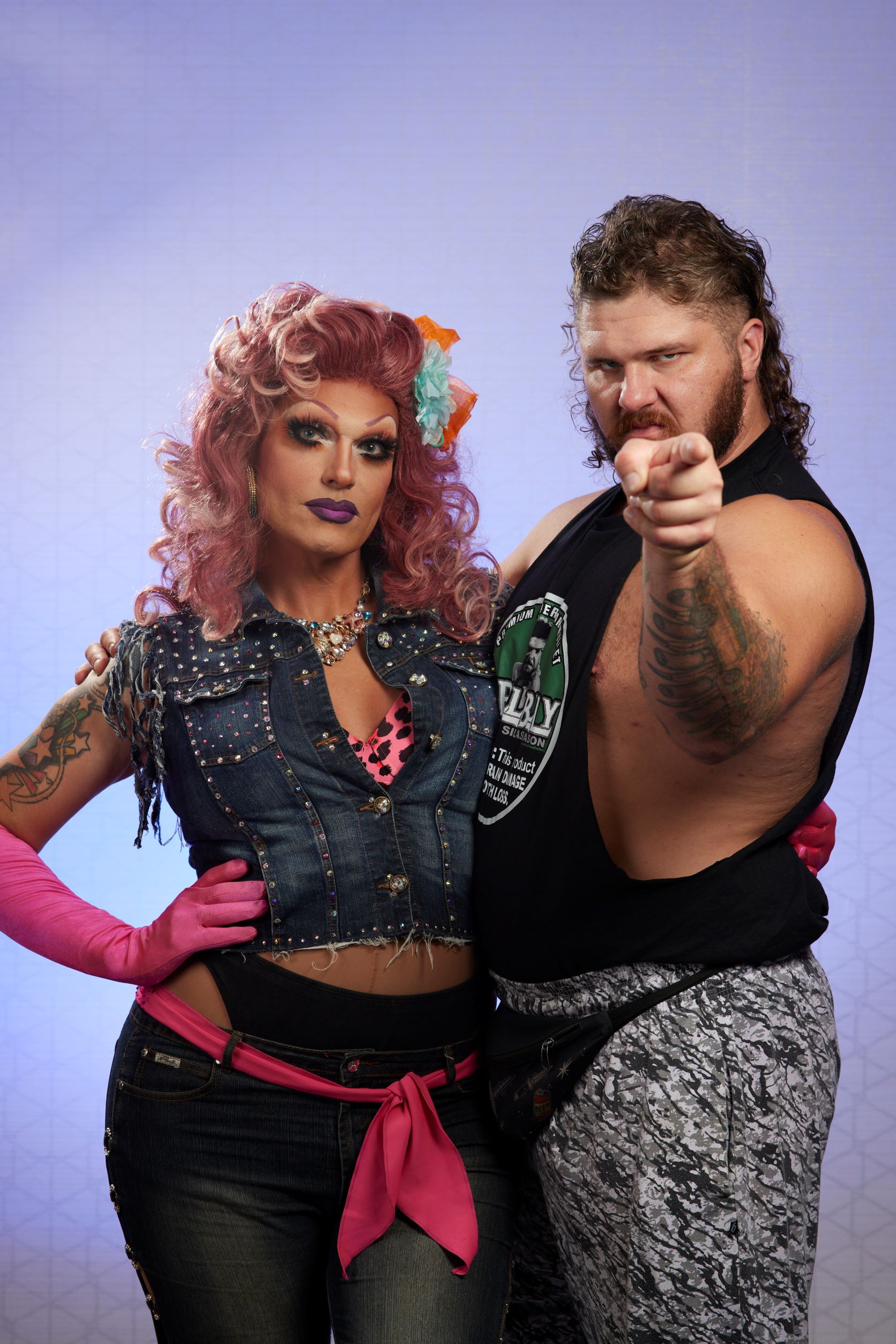 ON HEELS: Zicky Dice, Silas Mason, Dominik Mysterio
TEXT BY POLLO DEL MAR
SOMETIMES IT'S BEST to recognize you're fighting a losing battle. Zicky Dice should have remembered this when our paths crossed recently in Connecticut.
On Sept. 22, Best Trivia Ever collected a mixture of today's brightest talent and legends like Scott Steiner and Scotty 2 Hotty for SLAM 2, an unforgettable night of pro wrestling action in Milford. Seeking revenge for his humiliation at a SLAM event a year prior, Dice had the temerity to direct his anger toward me to begin the show.
The IMPACT Wrestling star's callous and unwanted disruption turned me from the night's emcee into an impromptu "general manager" and matchmaker of sorts. The grave error of threatening me if "appropriate opposition" was not offered did not end well for "The Outlandish One."
Dice fell into a trap far too many do: underestimating the cunning and calculated "Manager Of Champions." He also failed to recognize just how far my connections extend in the wrestling world.
Some 90 minutes later, when he returned to the ring to menace and intimidate, it was my turn to surprise. You should have seen Zicky's expression when the music hit and Eddie Kingston came through that crowd!
Tonight @ZickyDice threatened to kick my ass if I didn't find "appropriate competition" for him at #BTESlam2. Careful what you ask for, Zicky…Now THAT's outlandish!

P.S. Don't 🤬 with "The Manager of Champions," fella! pic.twitter.com/wKBqQdFPEY

— Pollo Del Mar – Instagram.com/PolloDelMarFans (@TheGlamazonPDM) September 23, 2022
Fresh from devastating Sammy Guevara the night prior during an AEW Rampage taping, Kingston was all-too-ready to avenge that disqualification loss. Though I find no joy in siding with fans, I, like everyone in attendance, rejoiced as Eddie thoroughly trounced the former National Wrestling Alliance Television champion.
Yet again, Dice's big mouth was temporarily silenced—thanks to my new buddy Eddie. Now that is "Outlandish"!
IT'S A THRILL RIDE!
Being forced to acknowledge one of the all-time great fan favorites galls me to no end. However, when Ricky Steamboat is right, he's right—and the National Wrestling Alliance's new "Steamboat Proclamation" is very, very right!
Returning for Season 10 of NWA Powerrr, the former World's heavyweight champion immediately convinced NWA owner and president William Patrick Corgan to expand title opportunities for everyone in the company. That resulted in, among other things, a single elimination tournament to determine the #1contender to The Great Cyon's National heavyweight title.
The Hall-of-Famer Steamboat hand-selected 12 competitors of varying NWA tenure to compete for a title shot at the November 12 Hard Times 3 pay-per-view in New Orleans. With gentle persuasion, "The Thrillbilly" Silas Mason joined the likes of Jax Dane, "Magic" Jake Dumas, and more!
To the shock of apparently all except me, Silas "upset" former National champion Anthony Mayweather in the opening round. We then went on to face that demon-worshipping Judais in the semi-finals. I ran interference as that devilish garden gnome Father James Mitchell tried some shenanigans, allowing Silas to take "The High Priest Of Punishment" on a Thrill Ride he could not survive!
Soon, "The Thrillbilly" will face Chris Adonis and relative NWA newcomer Dak Draper in three-way finale. Adonis is a two-time National champion and Draper is a former Ring of Honor Top Prospects Tournament winner. However, neither has faced someone like Silas Mason—and certainly not with "The Lovely" Pollo Del Mar at his side.
Stay tuned to NWA's weekly programming—NWA Powerrr every Tuesday on FiteTV and NWA USA Saturdays on YouTube—to catch this must-see match-up. Silas Mason's ready to take the entire NWA on a Thrill Ride straight into New Orleans!
DADDY ISSUES
Poor Rey Mysterio! The man simply can't control his family.
First, daughter Aaliyah seemingly strayed amidst his ongoing feud with Seth Rollins. Now, son Dominik has stabbed him in the back to join The Judgment Day.
Sure, becoming the first father/son team to hold WWE tag gold was cute, but did Rey expect that to satisfy Dom forever? How long could Daddy reasonably expect Dom to ride his coattails, treating him like a child when all he wanted was to his own man? Little Dom finally stepped from his father's shadow—and all it took was Rhea Ripley's encouragement.
As the nephew of a legend himself, surely Rey knows the pressures of following an icon's footsteps. To ever be seen as more than "Rey Mysterio's son," Dominik needs to establish himself individually … and could never do that under his father's thumb.
Now Dominik shows dastardly depth and determination at the sides of Finn Balor, Damian Priest, and Ripley. He's turned the page, and his back, on the past to forge his own legacy. And it's clear fans like it no more than Rey does.
A recent Raw audience in California nearly booed Dominik and company of San Jose. Still, the smile on Dom's face said it all. For perhaps the first time in his young career, he's eliciting a crowd response entirely his own—and that's presumably all he ever wanted.
No judgment here, Dom!