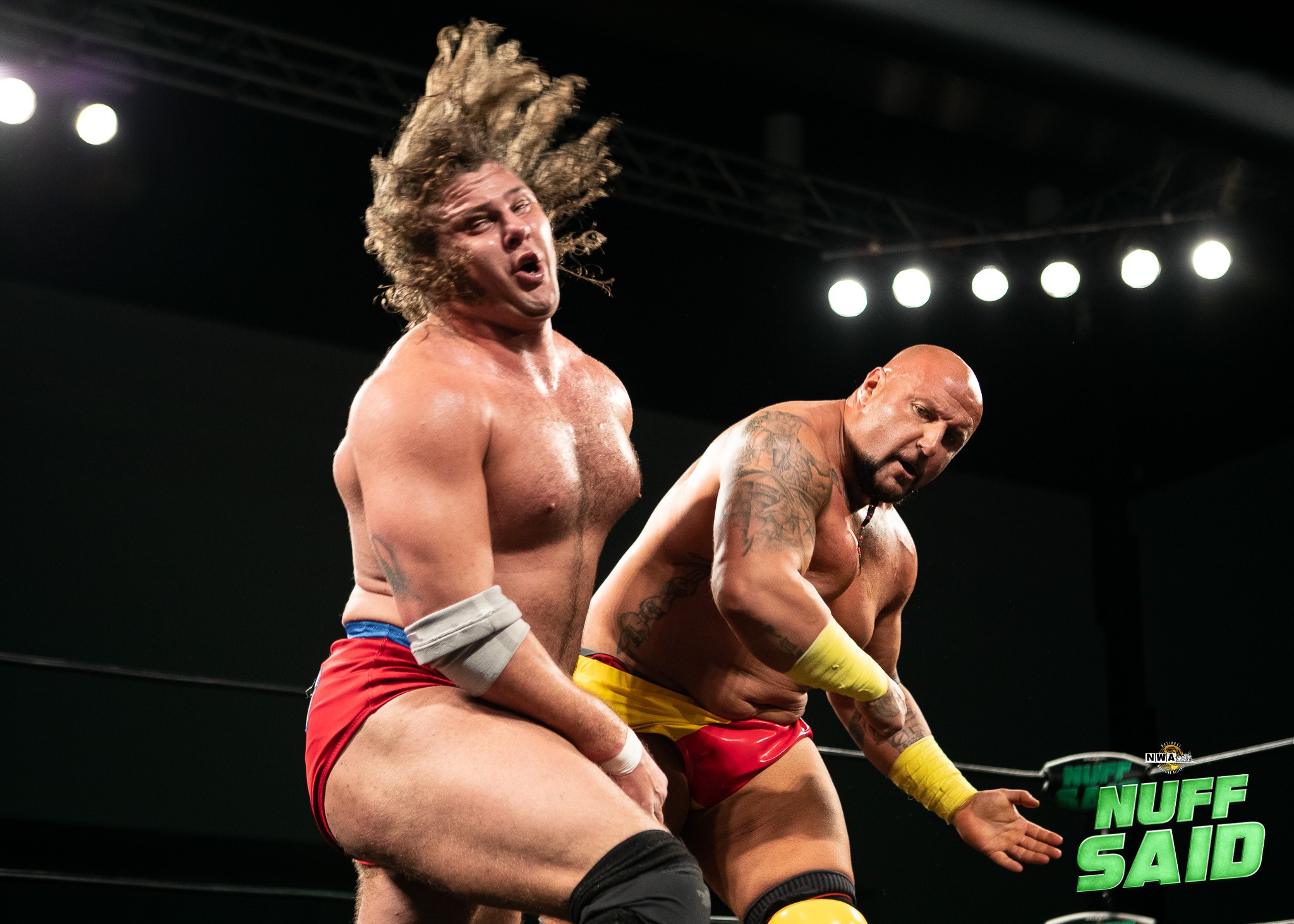 ON HEELS (Digital Edition) for 03-09-23
BY POLLO DEL MAR
TAKE THIS AS literally as you like, but I never saw it coming.
I certainly didn't foresee JR Kratos heinously attacking me during a recent National Wrestling Alliance broadcast. Likewise, I could never have predicted the outpouring of fan support that followed.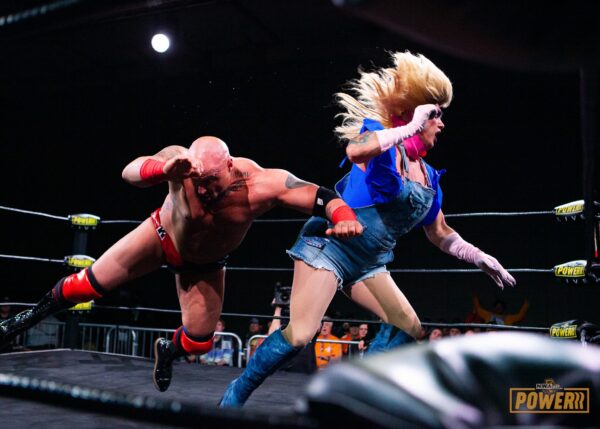 On a February episode of the flagship program NWA Powerrr, "The Thrillbilly" Silas Mason again faced Kratos. It was the second match in a rivalry that kicked off amidst the NWA's Champion Series.
During the first encounter, my loyalties were divided. Naturally, I wanted Silas to win. But, as Captain's Assistant for Team Brickhouse, NWA World Women's champion Kamille forced me to cheer on our team member Kratos. (Silas won anyway … yay!I)
When they again squared off, there were no distractions, as I rallied Knoxville behind its homegrown hero. In a rare moment of emotion, I slid into the ring, urging the ref to check Silas. That's when the former NWA World tag team champion struck. It was violent and uncalled for; a thoroughly disgusting and unprovoked assault.
After pouncing me clean out of the ring, showing exactly the kind of Durn Dirty No-Gooder he truly is, Kratos secured a tainted victory. But that's not where the story ends—not by a long shot!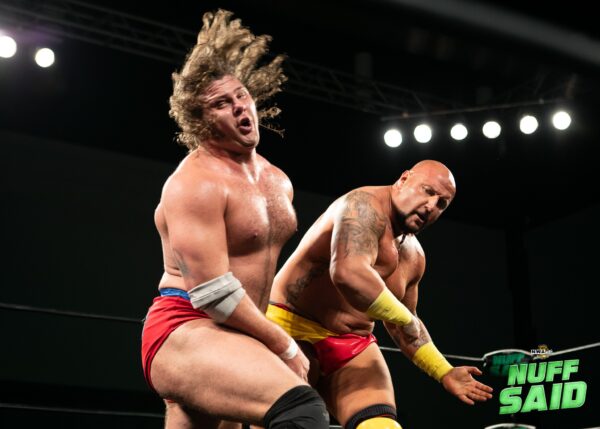 At NWA's Nuff Said in Tampa, "The Most Feared" became "the most bloodied!" When my baby sidestepped a huge splash attempt in the corner, Kratos knocked himself silly on a turnbuckle he exposed. In a pool of blood center-ring, Silas secured a gruesome, yet glorious, TKO victory to teach him a lesson!
Naturally, everyone loves a winner—and, with each match, it's blatantly obvious we're one step closer to NWA gold. Next in our crosshairs: cowardly NWA National Champion The Great Cyon and his geriatric father Austin Idol.
Frankly, it doesn't matter if fans support our journey or not. Most are fickle and selfish when showing love. Someone wise once said, "Your approval is neither required nor desired." And truer words have never been spoken.
However, I can understand the sudden about-face. "Big Daddy Thrill" and I are undeniable, the epitome of must-watch programming. How could anyone in NWA take their eyes off "6'6" Of Oooooh Yummy, Honey" and "The Lovely" Pollo Del Mar? The answer is simple: They can't … and never could.
With that in mind, the sudden affection is easy to comprehend—but it's equally clear the only thing that's "changed" is how folks see us.
OVW'S GANG WARFARE
As one of today's longest, continuously running promotions, Ohio Valley Wrestling saw greats like John Cena, Batista, Randy Orton, and Cody Rhodes long before most of the world.
Now, between its popular YouTube series and extended streaming and broadcast agreements, more eyes than ever are on the hallowed halls of Davis Arena! The company's recent growth was arguably built on the well-defined back of Jessie Godderz.
Whether for two reigns as IMPACT World tag champion or as a contestant and ongoing talking head for TV's Big Brother, "Mr. PEC-tacular" is a name known to many. Those paying attention, though, recognize him as OVW's crown jewel.
For much of 2022, Godderz and manager Shannon "The Dude" plotted to regain OVW's National heavyweight title from "The Indian Lion" Mahabali Shera. Having finally succeeded, the dastardly duo devised a delightfully devious defense. Taking a page from greats of generations past, Godderz aligned himself with some of the company's most established and promising competitors.
Flanked by multi-time OVW champion Adam Revolver, well-traveled veteran EC3, and upstart "Certified" Luke Kurtis, "The Dude" even convinced former rival Shera to join their "Godderz Gang." With a protective phalanx of beef, Godderz and the belt seem very secure!
Together, these men have run roughshod over opponents, collecting myriad titles and dishing out punishment along the way. Not since Josh Ashcraft's long-since-dismantled Legacy of Brutality has an OVW faction proved so devastating.
For Godderz, perhaps it's a means to an end: protecting that coveted gold. For others—notably Kurtis, who, as OVW's impressive Rush division champion, shines exceptionally bright in the mix—I suspect it's a launching pad for much, much more.
For the promotion, though, it's a testament to its motto. With OVW, you truly do "See The Superstars Of Tomorrow Today."
AEW'S LETHAL COMBINATION
It's taken far too long for Jay Lethal to find his footing in All Elite Wrestling. The Ring of Honor legend floundered amid less-than-compelling outings upon his arrival. His partnership with Sonjay Dutt and "One In A Billion" Satnam Singh also seemed questionable.
Enter Jeff Jarrett.
Despite their performances as Ric Flair's seemingly hand-selected final opponents, I was initially skeptical. Now, with time to gel, the pairing is hitting its stride in an apparent quest for the highly competitive division's tag team gold.
On the February 22 Dynamite, Jarrett and Lethal earned a multi-team shot at champs The Gunns, which took place at Revolution on March 6. As challenging as it is for anyone to truly stand out in AEW, Lethal and Jarrett are masters of the game. Having each won countless titles across nearly every promotion going today, both should have felt like major individual acquisitions for AEW in their own right … yet neither did.
But now, together, they inch closer to a deserved AEW spotlight with each outing. When all is said and done, the partnership just might be a stroke of genius for both.