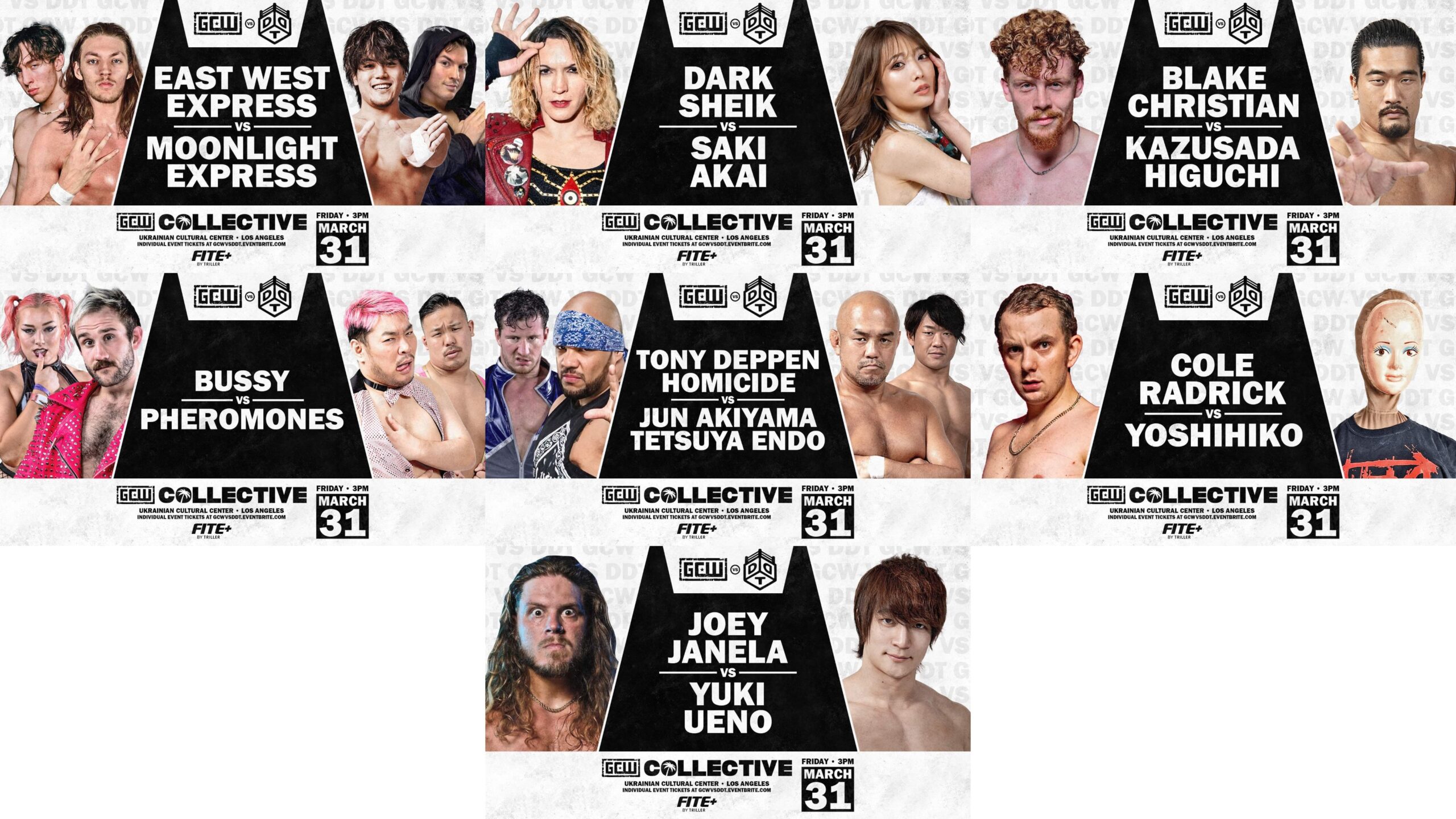 Over WrestleMania Weekend, DDT Pro Wrestlers Battle Big Names From Game Changer Wrestling
Here's What You Can Expect (In The Words Of The DDT Stars, Themselves!)
TEXT BY ISSA MARIE
FOUR YEARS AFTER taking over NYC and its streets, DDT Pro Wrestling does Hollywood in the only way it can. As part of The Collective, Dramatic Dream Team (DDT Pro), is returning to the U.S. to bring back its essence and wild uniqueness to North America. The promotion will present two highly anticipated shows: DDT Goes Hollywood (March 30) and GCW vs. DDT (March 31). And, if President Sanshiro Takagi, has his way, this two-day overseas tour will be the first of many of its kind.
I had prepared a lengthy dissertation as to why you should buy your tickets to the show before they are all gone; but instead, I'll let the DDT roster coming to Hollywood do the honors themselves:
"It's been two months since my last visit [to the U.S.', so I hope to hear 'welcome back' chants, okay? MAO is back! I'm going to run wild! Look forward to the DDT style." – MAO, who will be teaming with his ShunMAO partner, Shunma Katsumata, to take on Chris Brookes and Yoshihiko at DDT Goes Hollywood; then reuniting with his Moonlight Express partner, Mike Bailey, in a match versus the East West Express, Nick Wayne and Jordan Oliver, at GCW vs. DDT.
"I'm very glad to be able to take part in DDT's Hollywood show! I'll turn America into a sauna, so please give me your support! I hope you feel my NEPPOWER!" – Shunma Katsumata, who also teams with his frenemy, Chris Brookes, and Mizuki Watase to take on Second Gear Crew at GCW vs. DDT.

"I've been dreaming of wrestling in America ever since I was Universal champion! My dream! Wait for me, and please remember my overflowing NEPPOWER! Neppower is my fighting spirit!" – Yuki Ueno, who will be facing Konosuke Takeshita at DDT Goes Hollywood, following their time limit draw at Itabashi Green Hall back in January; and Joey Janela at GCW vs. DDT.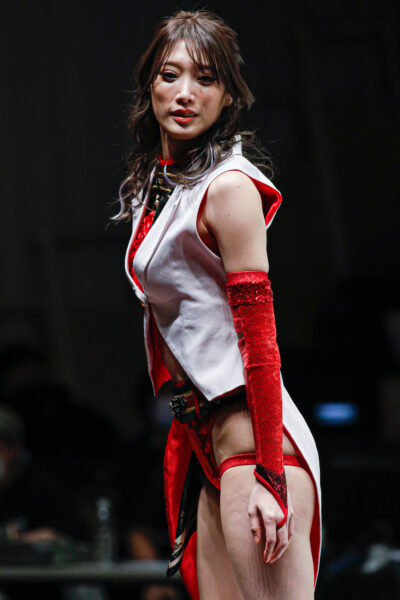 "DDT's first Hollywood show! Everyone couldn't come over, so I'll do my best for the rest who couldn't make it over to show the joys of DDT! Please enjoy the world of DDT☺️ My long limbs and kicks! And how graceful I am ♡" – Saki Akai, who will be facing Vertvixen at DDT Goes Hollywood and DARK Sheik at GCW vs. DDT.

"I won my very first KO-D openweight championship at the New York show in 2019, so [the U.S.] is a special country to me.  This time, I'll make sure to be at the Hollywood show as Universal champion and make it a success with my high-flying moves and these big buttocks of mine that are disproportionate to my upper half," – #AndNew DDT Universal champion, Tetsuya Endo, who will be facing Joey Janela at DDT Goes Hollywood; in an effort to avenge his loss during the 2022 D-Oh Tournament, he teams with Jun Akiyama to take on Tony Deppen and Homicide at GCW vs. DDT.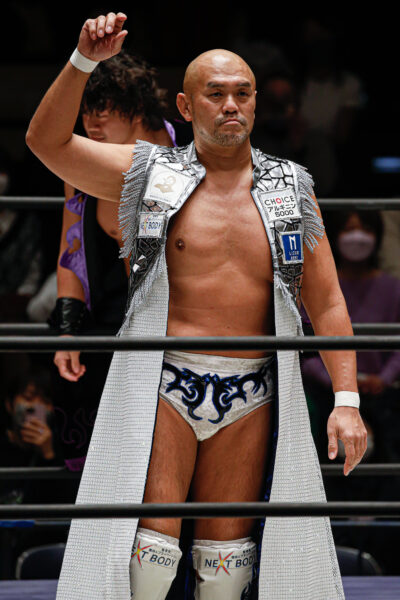 "I hope that American pro wrestling fans can see how intense our wrestling is. Even in my 31st year as a wrestler, I'll show you that I can still be aggressive," – Jun Akiyama, who will be teaming with Eddie Kingston at DDT Goes Hollywood, and will be teaming with his BURNING mate, Endo, to take on Tony Deppen and Homicide at GCW vs DDT.

"America will be my first time overseas, so I'm very excited. I'll tap out whoever my opponent may be. What I hope you remember is … my Cobra Twist and everything about me!" – KANON, who is teaming with DAMNATION T.A.'s Charisma (Daisuke Sasaki) to take on Eddie Kingston and Jun Akiyama at DDT Goes Hollywood.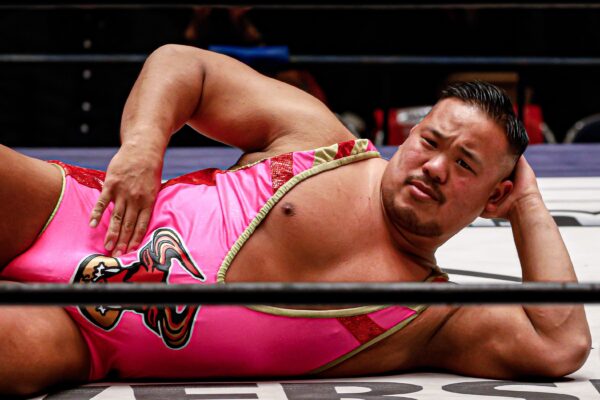 "SEXY!! OH! SEXY!! SEXY!!!" Pheromones' Yuki Iino, who along with Danshoku "Dandy" Dieno, will be facing DDT's Peter Pan, President Sanshiro Takagi, and DDT/AEW star Michael Nakazawa at DDT Goes Hollywood; at GCW vs DDT, the Pheromones will be unleashed when they take on BUSSY (Allie Katch and EFFY).

"I won a young guys' league in DDT to go to Hollywood. I have to show I'm the number one in the young guys. I learned Shorinji-kempo, which is a Japanese martial art. So, I want you to see my kick and punch." – Takeshi Masada

If you haven't done so, get your tickets before they sell out … these are two shows you won't want to miss!
---