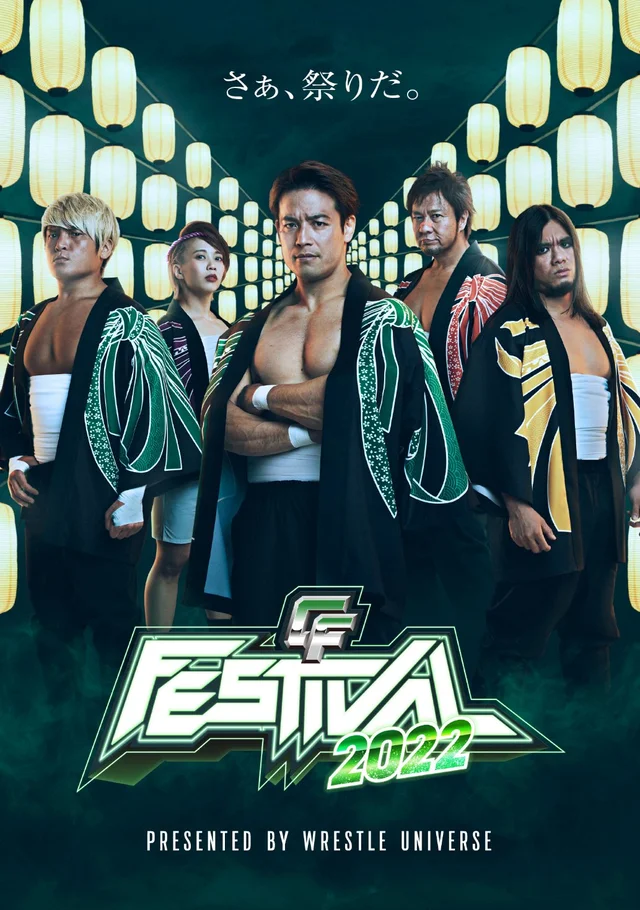 CFF22 Special Interview DDT vs. GanPro
Ahead of CyberFight Festival 2022, several wrestlers from CyberFight are inviting everyone reading PWI to watch this special showcase event. As Dramatic Dream Team's (DDT) Hideki Okatani and Ganbare Pro-Wrestling's (Gan☆Pro) Yuna Manase prepare to square off in a clash for company pride, they took some time to sit down and answer a few questions!
Okatani and Manase will participate in a six-person tag match. Their match is part of a long-standing rivalry between the companies, and will also feature Yukio Sakaguchi & Saki Akai from DDT and Ken Ohka & Mizuki Watase from Gan☆Pro. The match will be the third opening showcase match on the extensive 14-match card!
Peterson: Many PWI readers are still learning about Gan☆Pro and DDT, please start with a short self-introduction.
Yuna Manase: My name is Yuna Manase and I belong to Ganbare Pro-Wrestling! My favorite wrestling moves are the lariat and the brainbuster. It's a pleasure to meet everyone!
Hideki Okatani: I'm Hideki Okatani from DDT, and I belong to the unit Eruption. DDT has a wide range of wrestling spanning from comedic to very serious. We also do matches in unique locations [like the Tokyo Dome Baseball Field, local zoos, and waterparks]."
Peterson: What does CyberFight Festival mean to you? What are your feelings about this big annual show with all your sibling promotions?
Manase: If I don't show everyone the power of Ganbare Pro-Wrestling here, I don't think there will be another chance. I want to prove to [CyberFight] that we'll keep fighting, and our fight against wrestling society starts with Eruption!
Okatani: [CFF22] is a great opportunity for us to mix with wrestlers in CF's other promotions. I'm thrilled to see all the inter-promotional matches and rivalries! This is a prime chance for new fans to discover us, as well.
Peterson: What are you most looking forward to with your match at CFF '22? Which match (that isn't your own) are you most excited to watch?
Manase: Previously, Gan☆Pro fought against Eruption two years ago, but that was before I was a member. For us, this is a match we need to win. Not only do I want to defeat Eruption, but so much so that we're the winners of CyberFight Festival.
Okatani: I really want people to see how deep the competitive bad blood runs between our companies! Aside from our match, the competitive DDT/NOAH six-man match [Tetsuya Endo, Jun Akiyama, & Kazusada Higuchi vs. Katsuhiko Nakajima, Atsushi Kotoge, & Yoshiki Inamura] features wrestlers who truly symbolize each promotion."
Peterson: After CFF, what are your goals for the rest of the summer?
Manase: I have some unfinished business with Stardom's Unagi Sayaka. Recently, she dropped by Gan☆Pro unannounced and said a few cheeky things. We have a match at WRESTLE SEKIGAHARA on July 10. I am also the Ice Ribbon International Ribbon tag champion with Totoro Satsuki.
Okatani: I intend on entering and winning the D-Oh Grand Prix*.
[*The D-Oh Grand Prix is DDT's annual round-robin tournament. Its winner receives the opportunity to challenge for the KO-D Openweight championship. The current champion is Tetsuya Endo.]
Peterson: Do you have any interest in wrestling abroad? Where would you like to go? Who would you like to have as an opponent in the future?"
Okatani: "I definitely have an interest (in wrestling abroad). I'll go to literally any promotion in any country in the world that invites me! I have a particular interest in Orange Cassidy."
[Note: Ms. Manase was not asked this question, as she was provided a different set of questions during her interview.]
Peterson: With CyberFight Festival being the biggest event of the year, and its being broadcast around the world, do you have a special message for the international fans?"
Manase: I live in Japan, and it's an island country, so I cannot see you very easily! I want to meet everyone and speak together in person. In the meantime, I'll keep doing my best. I'll be waiting for you!
Okatani: For those who are unfamiliar with DDT, please consider watching and check us out! I guarantee you'll become obsessed with DDT!
---
Keep an eye out for this Saturday's POST Dream Slam Weekly for an exclusive audio interview with Yuna Manase prior to her match at CyberFight Festival! A full event report will be available at POST Wrestling after the show concludes.