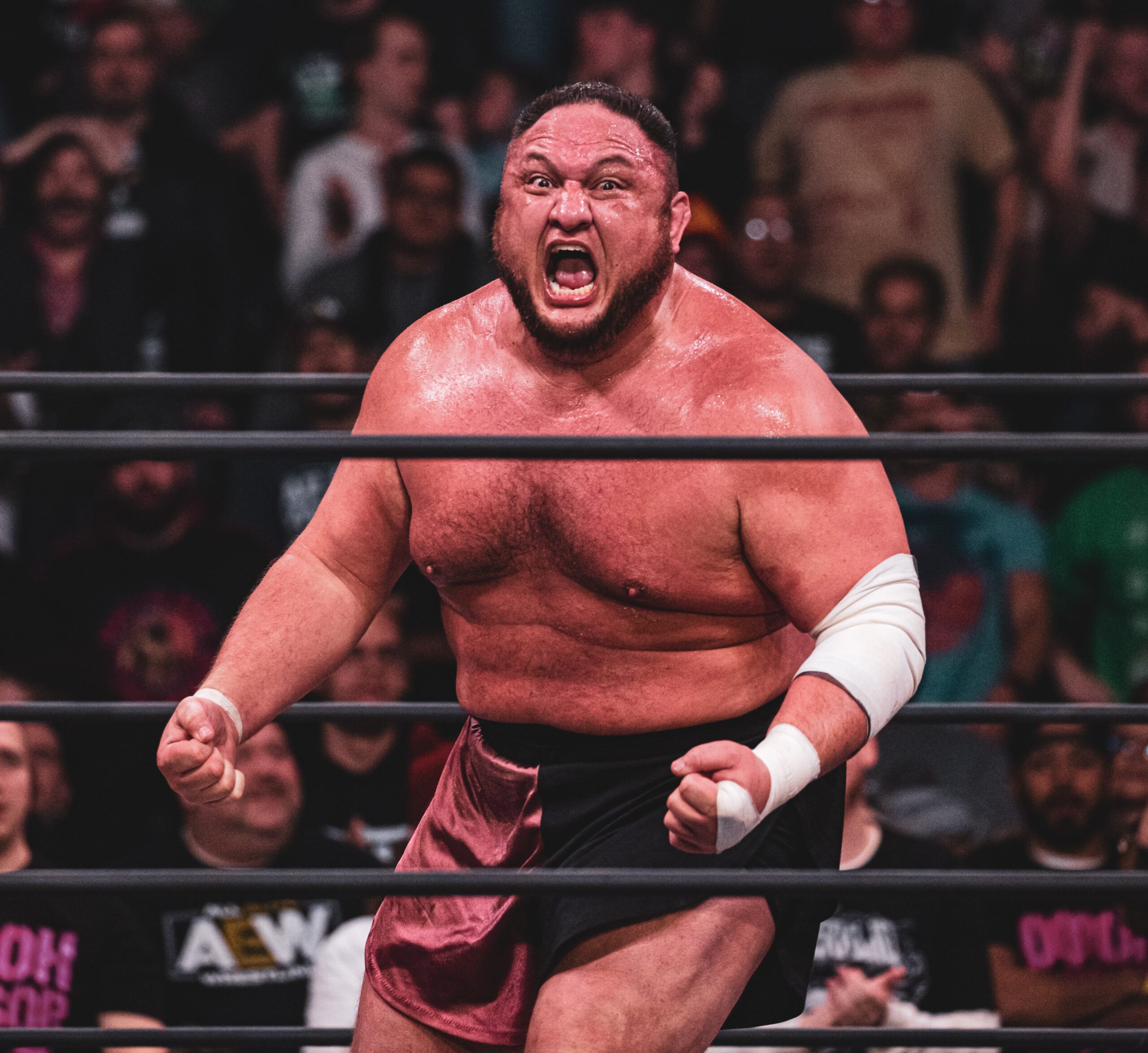 ON HEELS: Wardlow, Samoa Joe, GCW's Kevin Gill
TEXT BY POLLO DEL MAR
THOUGH I'M MOST comfortable guiding my talents to victory from the safety of ringside, never take the fact that I don't enter the ring as meaning I can't!
No, I am not discussing the countless uncalled-for instances where wrestlers have laid their hands on me as I work my managerial magic. Unfortunately, that occurs far more than I care to admit. Last spring, Mia Yim knocked out my tooth … and Jacob Fatu broke my ribs just months later!
More than once in 2022, however, my hand has been forced—requiring me to defend myself.
Early this year, during Game Changer Wrestling's San Francisco debut, Joey Janela took apparent offense to me cheering on DARK Sheik during their match. He violently assaulted me even before the bell.
After regaining my composure, I exacted a modicum of revenge—powerbombing "The Bad Boy" through a table. Doing so in seven-inch platform heels seemingly shocked many, leading to a "Moment Of The Year" nomination in the annual Outsports QWI Awards.
Most recently, though, I put the heels aside and climbed between the ropes to wrestle. On Halloween Eve, at Underground Wrestling Alliance Devil's Night 17, I led The Agenda into eight-person action against The Circus of Sin.
Our place as the most dominant faction in UGWA's storied history—and, for that matter, all of California—was challenged by Funnybone, Super Beast, Abigail Warren, and vile leader KP. Months of skullduggery and ceaseless, unprovoked attacks against my glamour, beauty, and managerial genius led to one epic night.
Once KP and I were face-to-face—and my earrings came off—their fate was sealed! Like glitter you simply can't get rid of, I was all over that frightful cretin as we brawled into a corner. Eventually, they, too, felt the wrath of my "Pollo Bomb"!
Even The Circus of Sin grew tired of KP, as each member ultimately delivered beatings to their hapless former ally. Who am I to be swayed by such misfortune? I offered a final, devastating elbow drop to the doughy dumbass and secured the pin!
That same night, UGWA tag team champions Money Power Re$pect (Marco Mayur & Fabuloso Fabricio), "Link to the Future" Anton Voorhees, and I continued our celebration. We gathered ringside as DARK Sheik regained the UGWA Championship of Sharks.
Once again, we reign supreme. Everyone in California, and soon beyond, will know: You're either with The Agenda … or you're on our agenda!
A JOE-MENT LIKE THIS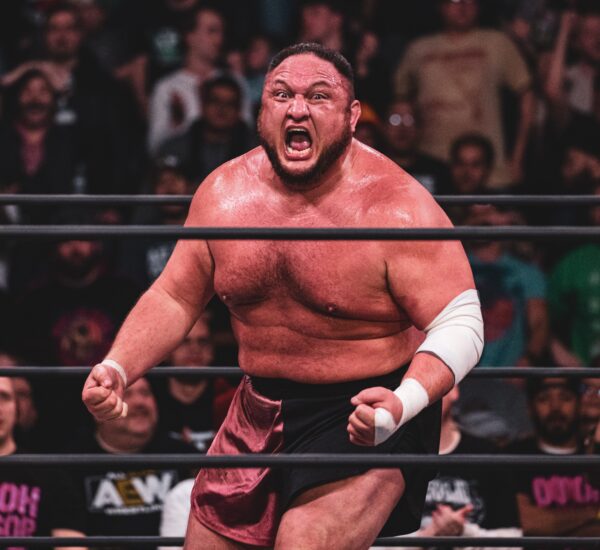 Did Ring of Honor Television champion Samoa Joe attacking AEW TNT champion Wardlow on a recent episode of Dynamite make sense to me?
Not particularly, but I certainly didn't cry over the dissolution of the all-too-brief WardJoe partnership. Frankly, it gave me something I have waited far too long to see!
Few AEW debuts inspired the excitement I felt for Joe's. Criminally underutilized by WWE, where he unquestionably should have been World champion, injury nearly robbed him of all opportunity to rectify that elsewhere.
In AEW, I hoped Joe would emerge as a killer poised to right that wrong. (Re)capturing the ROH TV title teased the possibility … but when? After a few matches, Joe disappeared from the very television he purportedly represented and faded into an afterthought. (Not uncommon in the bloated AEW, it seems, where sidelined or underutilized talents exceed even most larger-scale Indie rosters.)
All that changed at Full Gear! In front of a sold-out crowd, the devious Samoan snatched victory from Wardlow, putting away Powerhouse Hobbs in triple-threat action to become the new AEW TNT champion.
Fans can whine and complain about Joe's underhanded tactics. They can bemoan Wardlow losing his belt without actually being defeated. Say whatever you like; it does not change facts.
Samoa Joe is a former ROH and IMPACT World champion, can brag about carrying major title belts around the globe, and now joins a select few to become a double-champion within AEW. Joe has finally reclaimed all that was nearly taken from him, and I, for one, love to see it.
Indeed, I'd love to see even more. Perhaps it's time AEW crowns its own Samoan Dynasty.
ULTIMATE HEEL MOVE
HUGE thanks to @OutlawProWres for a fresh weekend of shows in Brooklyn!

Grateful to be a small part of fun events with great talent like @wcwcrowbar @DirtyDangoCurty @RealBullJames @encoreshowtime @MarcusMathers1 @kiahdream to name a few + the crew! #PhotoByKG pic.twitter.com/xy0FdAOzum

— Kevin Gill (@OGkevingill) December 5, 2022
How verrry dare you, Kevin Gill?!
After decades as a West Coast-based hype man, the pro wrestling vocal legend has packed it in! No, he's not retiring, but the man known to fans worldwide as "The Voice Of GCW" and beyond announced his shocking decision to leave the San Francisco Bay Area.
"The O.G." briefly discussed this relocation during a recent appearance on Busted Open Radio. There, he joined host Dave LaGreca and Thunder Rosa to share his lifelong love affair with deathmatch wrestling and how today's Game Changer Wrestling—where Kevin's commentary is an experience-altering must—continues that tradition.
I don't care that Kevin's move is fueled by golden intentions! What do I give a damn about some bleeding heart softie's desire to be closer to and better able to support and assist loved ones in times of need and crisis?!
Kevin never shook the New York, which is obvious to any who have heard him call matches from Kansas to Korakuen Hall. And yet, the West Coast had stolen one of the best play-by-play men not signed to a major company.
And now this?!
Oh, Kevin Gill, you will rue the day you turned your back on California. And I might yet be the one to personally make you pay!