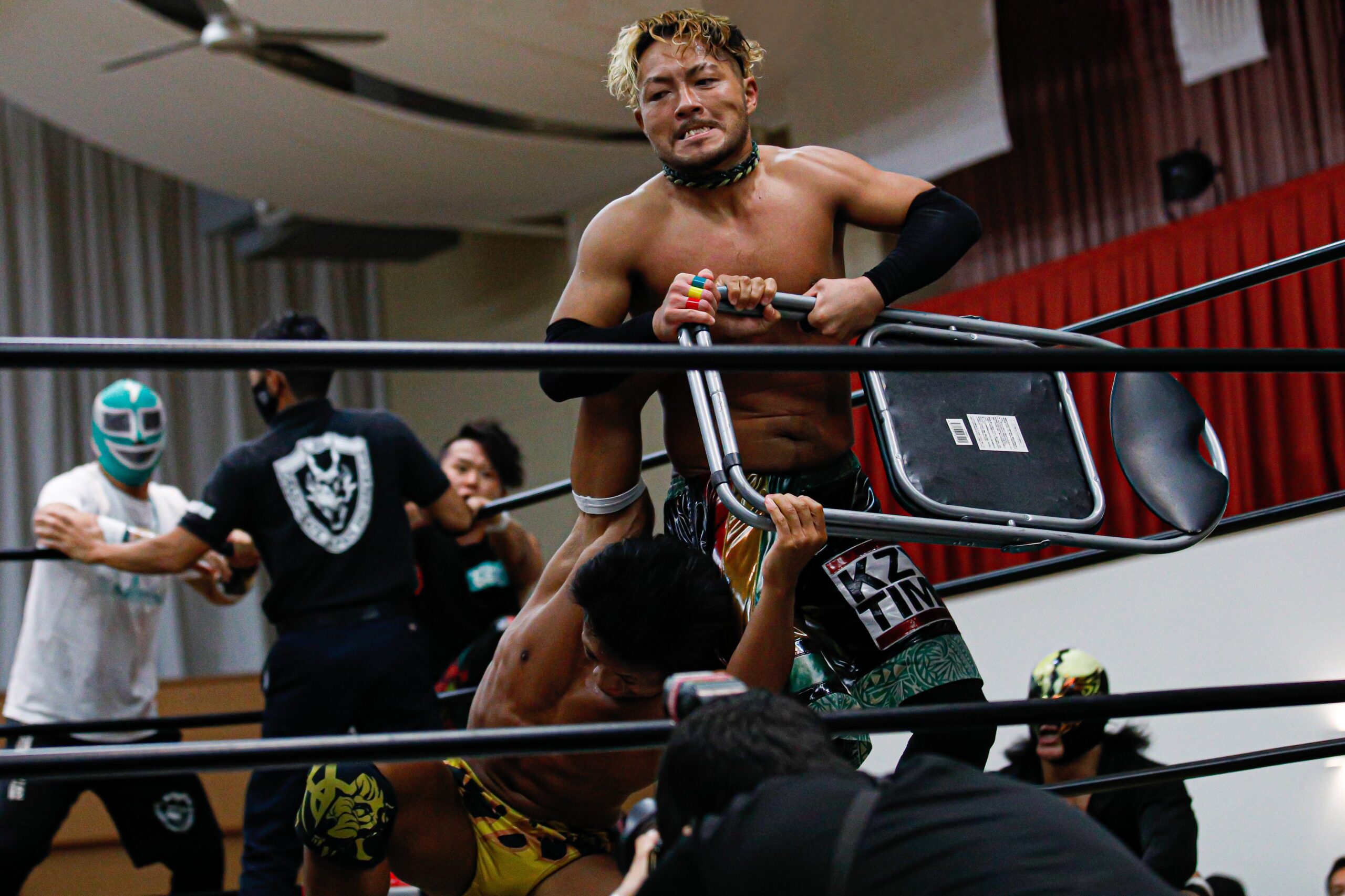 IT IS KZY TIME …
AND THE U.S. IS ABOUT TO GO CRAZY!
TEXT & PHOTOS BY ISSA MARIE
DURING THE MONTH of February, the leader of Dragongate's NATURAL VIBES, Kzy, and the unit's powerhouse, BIG BOSS Shimizu, will be wrestling throughout the U.S.—East to West Coast and some in between!
When I was still in Japan, I had the opportunity to speak with Kzy just days ahead of the tour announcement. He is the man in charge of Dragongate's most beloved faction, NATURAL VIBES, known for its feel-good energy, music, and, most importantly, being the blueprint for what a cohesive unit should be.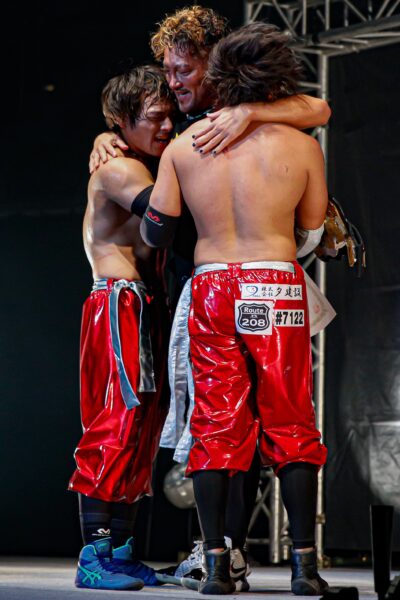 "We stay true to who we are," explains Kzy. "We respect each other, support each other. There are no betrayals. We are made up of 'Good Vibes Only.'"
Since re-establishing NATURAL VIBES, Kzy has focused his efforts on coaching and mentoring the next generation of talent in Dragongate. "When the first iteration of NATURAL VIBES was established, I had Susumu (Mochizuki) and Genki (Horiguchi) to help develop me as a top player," he said. "After their departure from the unit, I assumed their former roles in order to pay it forward to the younger generation of wrestlers that make up NATURAL VIBES, Chapter 3: Jacky, Jason, and (Strong Machine) J."
In my interviews with Jacky Funky Kamei, Jason Lee, and Strong Machine J (SMJ), each effusively praised the group's leader, with SMJ acknowledging it was Kzy who gave him the opportunity and the platform to be the truest version of himself. Without such a supportive captain, NATURAL VIBES simply would not be what it is today.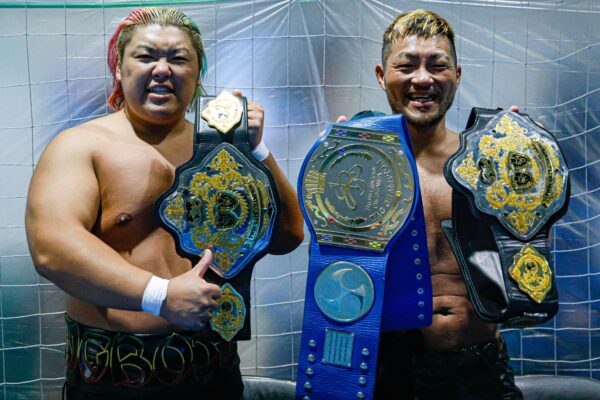 Given the choice, I wondered whether Kzy preferred being the undisputed "Top Guy" in Dragongate or being a leader among his peers. He doesn't see the two as being mutually exclusive. "As a leader, I always strive to be in the limelight," he admitted. "But helping the younger wrestlers become the next generational group to lead the promotion ignites the fire and grit within [me] to continue to fight harder to achieve my results. Helping them elevates me."
While that may be true, those who have followed Kzy's career have wondered when it will finally be his time to reign as Open the Dream Gate champion. That includes the NATURAL VIBES leader himself. "Seeing all the younger wrestlers thrive and become champion, from the lens of the promotion, I am very happy to see," Kzy told PWI. "However, personally, it is frustrating [to not become champion]. In Dragongate, timing is everything. And when the time is right, I will be ready to take advantage of it."
Perhaps his journey overseas will enable the veteran wrestler to become closer to undeniable. And what should U.S. fans expect from Kzy? "In every state and venue I will be wrestling at, it is going to be fun," he said. It is going to be loud, it is going to be exciting!"
Dragongate fans will nod their heads in agreement. They have learned to expect nothing less from "Mr. All Gas No Breaks, Mr. Full Throttle!"
Take it from the man himself: "That is why it is always Kzy Time."
If you have never seen Kzy wrestle before, you are in for a treat!
At the end of this article, we will provide you with some recommended matches to watch via YouTube. However, the one that solidified everything for Kzy is available exclusively on the DRAGONGATE Network (dragongate.live). This is Open the Dream Gate challenge against PAC on February 10, 2019.
Even though Kzy was not victorious in the end, he proved that he could go toe to toe with a world-class wrestler, giving him the confidence in his ability that he can stand with the best on the planet
U.S. Tour Schedule for Kzy & BIG BOSS Shimizu
Kzy
02-03 GSPW (New Jersey)
02-04 MLW (Philadelphia)
02-17 Prestige (Portland)
02-18 BLP (Chicago)
02-25 MEW (Alabama)
02-26 ETU (New Jersey)
Shimizu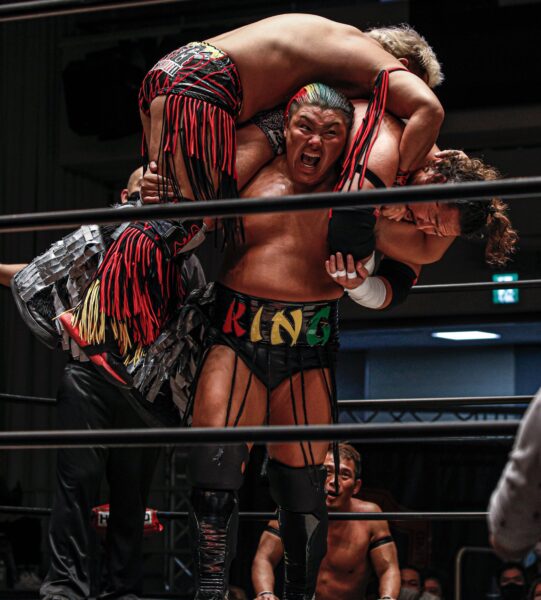 02-03 GSPW (New Jersey)
02-04 MLW (Philadelphia)
02-18 WrestleRave (Texas)
02-25 MEW (Alabama)
02-26 ETU (New Jersey)
RECOMMENDED VIEWING:
Kzy vs. Shun Skywalker, 12-16-2022
Kzy vs. Shun Skywalker, Kobe Pro Wrestling Festival 2021, 07-31-2021
Kzy vs. Kota Minoura, King of Gate 2021, 06-03-2021
---
IT IS KZY TIME …
AND THE U.S. IS ABOUT TO GO CRAZY!
TEXT & PHOTOS BY ISSA MARIE
2月ではNATURAL VIBESのリーダーであるKzy選手とBIG BOSS清水選手が渡米することになりました!
アメリカンツアーが発表前に運よくKzy選手と話す機会がありました。彼がドラゴンゲートの最愛であるユニットNATURAL VIBESのリーダーです。改めて紹介しますが、NATURAL VIBESはエネルギーと音楽で知られている中、彼らの結束力がユニットのあるべき姿でもあります。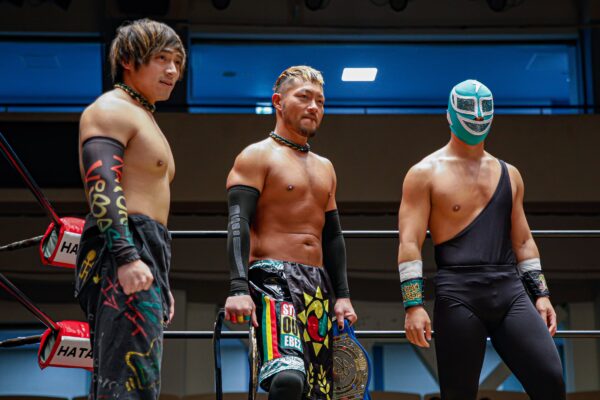 「私達は私達に誠実であり続ける。お互いに尊重し、支え合っている。裏切りなんてしない。私達はいつもGood Vibes Onlyで構成されている」
NATURAL VIBESを再結成して以来Kzy選手は次世代選手の指導や育成に力を注いでいます。「NATURAL VIBESが立ち上げた当初は望月ススムさんと堀口元気さんにトッププレイヤーとして育ててくれました。彼らがユニットを離脱した後、NATURAL VIBES第3章を構成する若い世界のジャッキー、ジェイソン、とストロングマシーンJに恩返しするために、彼ら(望月と堀口)の役割を引き継ぎました。」
ジャッキーとジェイソン選手、そしてストロング・マシーンJ選手のインタビューでは、それぞれがリーダーを絶賛し、J選手は真の自分であるための機会を与えてくれたのはKzy選手であると認めている。NATURAL VIBESはこんな協力的なリーダーがいなければ、今のような姿にはならなかっただろう。
Kzy選手は誰もが認めているトッププレイヤーになることと、仲間中のリーダーであることのどちらが好きなのだろうかと想像してみた。しかしKzy選手はこの二択が相反しないものだと考えている。「リーダーとして常に脚光を浴びようと努力をしている。ですが若い世代を団体のトップで走るように手助けをすることで自分の結果を出せるための火種にもなります。彼らの手助けはご自身も高めてくれる」
しかしKzy選手のキャリアを追っかける者はきっと「いつになったらオープン・ザ・ドリーム・ゲート王者になれるのだろう・・」と思うでしょう。Kzy選手自身も同感でした。「若い選手が成長し王者になるのを見るのは団体の目からとてもうれしいことです。なのに(王者になれなかったのを)ちょっと悔しいです。ドラゴンゲートでは、タイミングがすべて。タイミングが合えばそれを利用する準備を出来つつある。」
もしかして海外遠征ではその第一歩になるのだろうか。アメリカのファンはKzy選手に何を期待するでしょうか?「どんな州でもどんな会場でもきっと楽しいでしょう。とてもうるさくなるし盛り上がることは間違いないでしょう!」ドラゴンゲートファンはミスター宴人全開ときっと賛成するでしょう。
だって本人「いつも常にKzyタイム!」
Kzy選手初見の方はきっといい時間を過ごすでしょう!下記にはおすすめ試合はありますが、一番おすすめする試合はdragongate.liveで見られる。これが2019年2月10日PAC選手とオープン・ザ・ドリーム・ゲート選手権試合でした。
残念でしたがKzy選手が敗れてしまった。なのに世界級のトップクラスレスラーと互角に渡り合えることを証明できたし、自信を持たせるようになりました。
スケジュール:
Kzy
2月3日 GSPW、ニュージャージー州
2月4日MLW、フィラデルフィア
2月17日Prestige、ポートランド
2月18日BLP、シカゴ
2月25日MEW、アラバマ州
2月26日ETU、ニュージャージー州 
BIGBOSS清水
2月3日 GSPW、ニュージャージー州
2月4日MLW、フィラデルフィア
2月18日WrestleRave、テキサス州
2月25日MEW、アラバマ州
2月26日ETU、ニュージャージー州
おすすめ試合:
2022年12月16日Kzy対シュン・スカイウォーカー
神戸プロレス祭り2021年、2021年7月31日、Kzy対シュン・スカイウォーカー
King of Gate 2021年、2021年6月3日
Kzy対箕浦康太