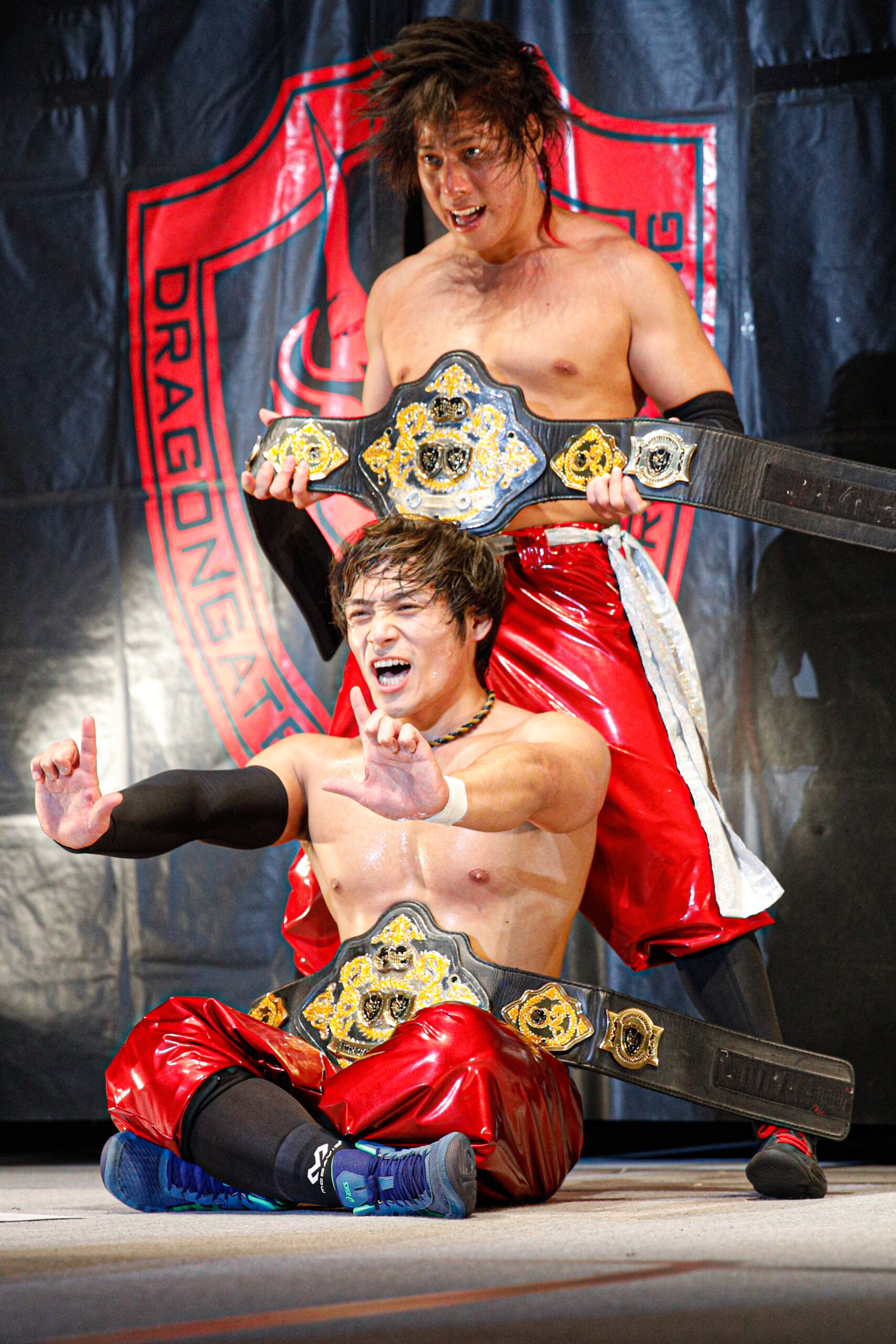 From NATURAL VIBES To Kung Fu Masters
The Two Faces Of Jason Lee & Jacky Funky Kamei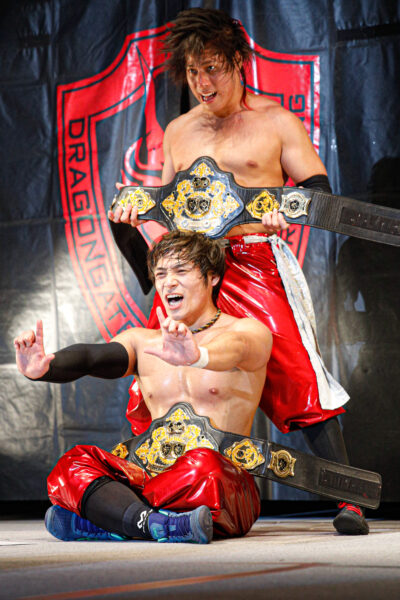 TEXT & PHOTOS BY ISSA MARIE
IN PRO WRESTLING, one needs to develop a character or persona that resonates with an audience. This is no easy task to accomplish merely once—just ask any wrestler who has cycled through multiple gimmicks over the course of a career.
Imagine, then, a tag team ably portraying multiple characters within the same wrestling company … at the same time.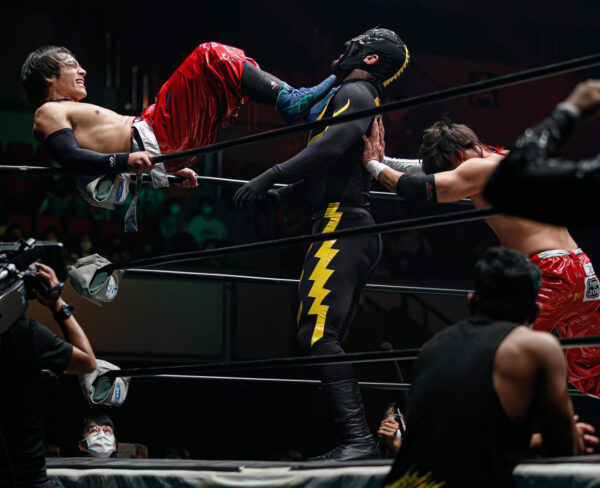 Indeed, it is a major challenge to embody two different characters and the relationships those characters have—completely distinct and unique—and yet, DRAGONGATE's Jason Lee and Jacky Funky Kamei have managed to do just that!
Both members of the NATURAL VIBES unit, Lee and Kamei make for an awesome pair. Lee introduces himself as the "pro wrestler from Hong Kong that represents DG, able to master everything he does." While Kamei is the self-described "funky energetic Jackie Chan lookalike with a deadly POW!"
Given their respective namesakes (Bruce Lee and Jackie Chan) and connections to the culture and land, the two tandem specialists decided to create a Hong Kong-centric unit of their own. (Note: DG is based in Kobe, home to a large Chinatown area named Nankinmachi.)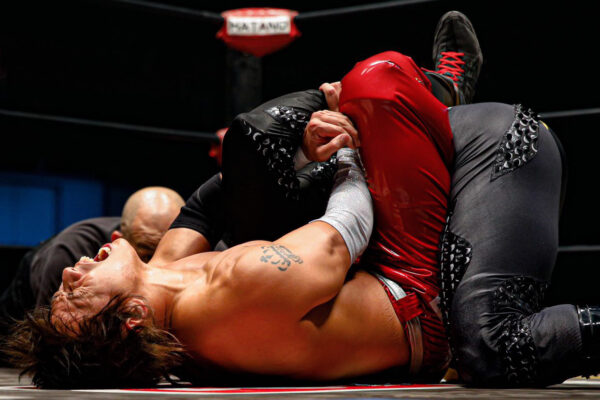 Realizing that a two-wrestler unit would not be able to survive long in DG's competitive landscape, invitations were extended to Hong Kong native Ho Ho Lun and his friend Super Shenlong III.
When asked if it's ever confusing to alternate between their original personas and newer personas, Lee is nonplussed. "Honestly, no," he told PWI. "Kung Fu Masters (KFM) is more a comedy unit, something I do not mind doing. However, the Jason Lee you see wrestle as part of NV (Natural Vibes), the technically sound, high-speed athlete with an infusion of kung fu, is who I am."
So, if he must pick one version of Jason Lee, which does he prefer? "NV Jason Lee, definitely!"
For the record, KFM's Jason and Jacky are more than just a comedy act. At Kobe World Festival 2022, they dethroned Open the Twin Gate champions Shun Skywalker & Diamante—pound-for-pound, one of the promotion's biggest, most dominant, and most agile duos. Interestingly, the so-called comedy unit seems to have made its members more confident in their abilities.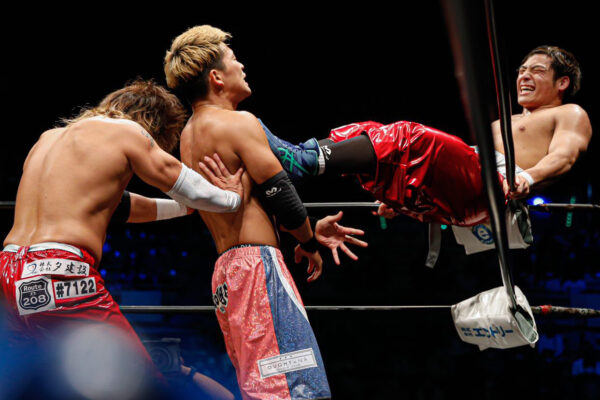 "KFM has given me the ability to expand my range when speaking on the microphone, show that a wrestler with a small body, big heart, who will never give up, is not limited in the ring," said Kamei. "My style remains the same for the most part … displays of strength, with the ability to cover every inch of the ring, and strike from any angle."
And, while both Kamei and Lee have desires to win singles titles in a not-too-distant future, they both prefer tag team wrestling. "With a great partner," adds Lee. "Like I've had with Kota Minoura, and now Jacky."
"In a tag team, you have the ability to develop and create powerful team moves," Kamei said. "Which requires a combination of strength and skills."
Moreover, Lee & Kamei have plans to conquer the world as a team … and regain the Twin Gate title they lost to D'Courage in Tokyo. "I truly believe the outcome [of the match] would have been different, had they faced the NV team," said Lee. "KFM, the unit that is specific to Kobe … We were at a disadvantage by not having the energy, power, and the spirit of the community with us."
And having been there in September to witness the loss, this author cannot disagree with Lee's assessment.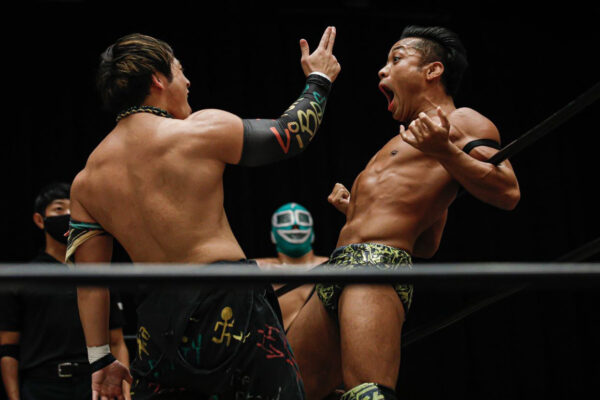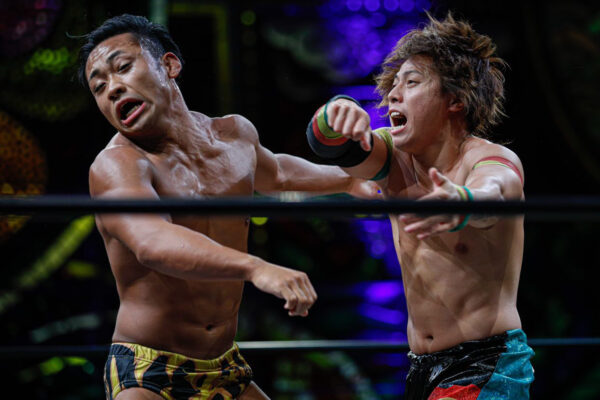 With that, we leave you with Lee & Kamei's parting words for readers of our ongoing DRAGONGATE Series:
"I hope to have more fans learn about and watch DG. And, when I wrestle again in the U.S. and Mexico, new fans and current fans come to watch and support during the tours." – Jason Lee
"Please everyone watch and support DG and my FUNKY wrestling! POW POW!" – Jacky Funky Kamei
RECOMMENDED VIEWING:
Jacky Funky Kamei vs SB KENTo, October 17, 2021
Jason Lee vs Shun Skywalker, April 25, 2022
Jason Lee & Jacky Funk Kamei vs. Diamante & Shun Skywalker, July 30, 2022
Kung Fu Masters vs. Genki Horiguchi & Teelan Shisa, November 19, 2022
---
NATURAL VIBESからカンフー・マスターズへ
ジェイソン・リーとジャッキーファンキーカメイの両面
プロレスでは、観客の心を掴むようなキャラクターが必要です。これは、一度だけではなかなか難しいものです。キャリア中にたくさんのキャラクターを巡回した選手に聞いてみたらいかがでしょうか?
だとしたら、改めて想像して見て下さい。同団体で複数のキャラクターを同時に演じ分けるタッグチームはどうでしょうか?
二人の異なるキャラクターと彼らが持つ関係性を具現化するのかかなり大きなチャレンジですが、DRAGONGATEのジェイソン・リーとジャッキーファンキーカメイなら問題なし!
ジェイソン・リーは「何事も極めるDRAGONGATE代表の香港人プロレスラー」。そしてジャッキーファンキーカメイ選手は「必殺のPOWを持つファンキーでエネルギッシュなジャッキー・チェンそっくりさん」です。
ブルース・リーやジャッキー・チェンを尊敬し、香港の文化や土地にゆかりのある2人は香港中心としたユニットを結成することにしました。
DRAGONGATEの競争の中で二人のユニットでは長く生き残れないため、香港出身のホーホー・ルン選手と彼の仲間・三代目超神龍に招待を送りました。
両ユニットのペルソナに戸惑うことはないかと聞かれたら、平然としてリー選手はこう言われた:「正直言って、ないですね。カンフーはコミカルなユニットで気にせずやっていることだ。ですが、(ナチュラル)のジェイソン・リーはハイスピードで技術的に才能溢れるカンフーを持つ彼は私そのままです。」
もしカンフーやナチュラルのジェイソン・リーを選ぶとしたら、リー選手は「間違いない、ナチュラルのジェイソン・リーです!」と答えられました。
ただ、カンフーのジェイソンとジャッキーはただのコミカルユニットではない。KOBEプロレスフェスティバル2022年では、オープン・ザ・ツインゲート王者のシュン・スカイウォーカー選手とディアマンテ選手に勝利しました。面白いことに、コミカルユニットとは言っても、メンバーの自信に繋がりました。
カメイ選手は「カンフーのおかげでマイクアピールの幅を広げることになって、小さな体で大きな心を持つ選手はリング上では限界がないことを示すことができました。スタイルとしては変わらない。強さをアピールとリング上のあらゆる方角で攻めることができる選手です。」
カメイ選手やリー選手も早くシングルタイトルを取りたいと思っているが、タッグチームの方が好きなようです。リー選手は「素晴らしいパートナーと一緒に。箕浦康太選手のようにジャッキー選手との」
カメイ選手は「タッグチームでは、強力なチーム技を開発する機会はありますが、それには能力やスキルが必要だ。」
なによりリー選手とカメイ選手はチームとしててっぺんを取る、そして東京でD'Courageが取ったツインゲート王座を奪還すること。リー選手は「ナチュラルだったら結果は違っていただろう。神戸限定のカンフーだったらエネルギーやパワーそしてコミュニティー精神を持っていないことで不利な立場で試合を挑んだ」
9月に現地で敗戦を観戦した筆者はリー選手の評価に異論はなかった。
最後に二人からのコメントです:
ジェイソン・リー:
たくさんのファンにDRAGONGATEを知ってもらい、見て欲しいです。またアメリカやメキシコに再びプロレスができたら、新しいファンや今のファンがツアーに身に来たり応援してくれたりすること。
ジャッキーファンキーカメイ:
みなさん是非DRAGONGATEと私のファンキーレスリングを見てくださいね!POW POW!