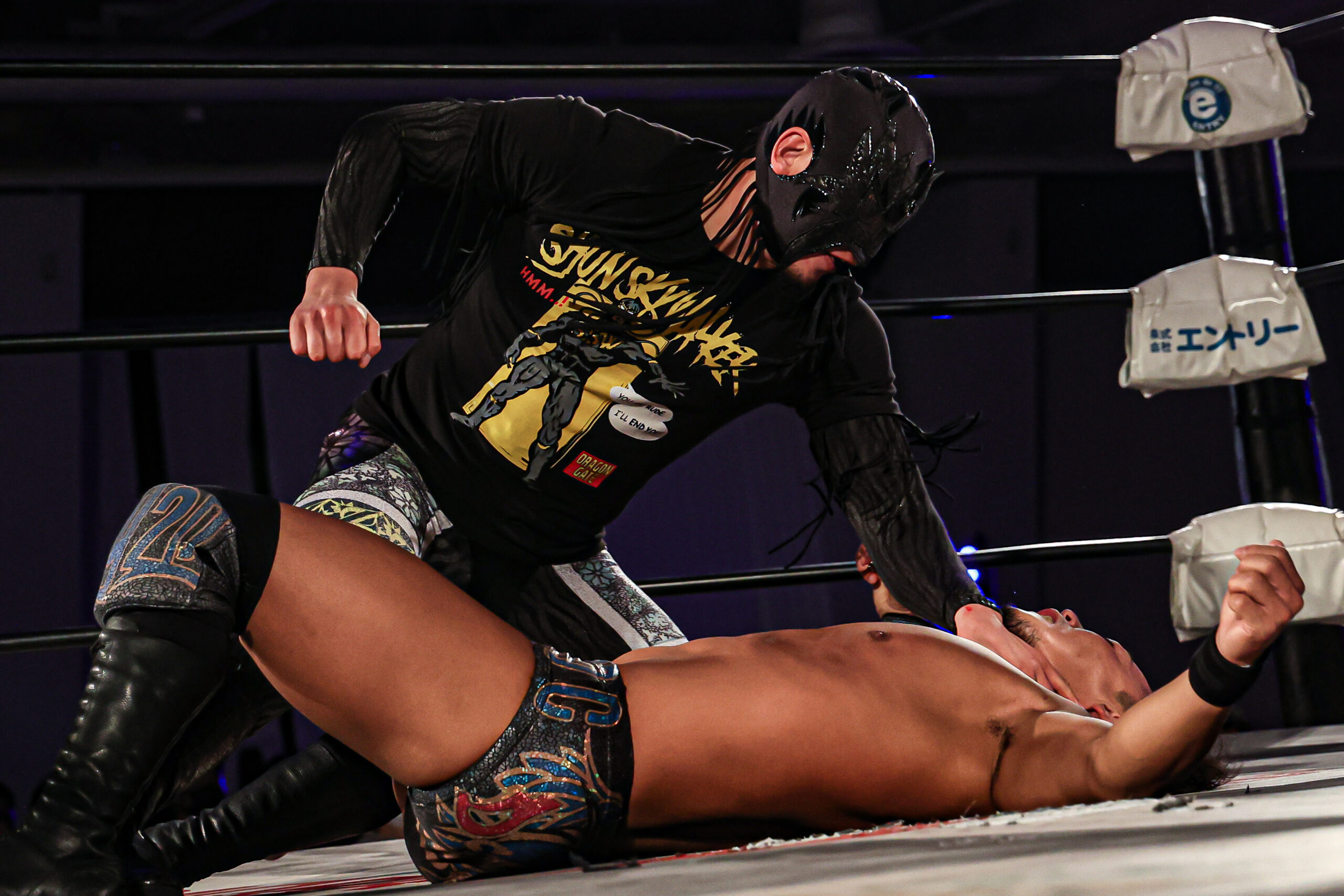 THE RISE OF SHUN SKYWALKER
Why He Will Conquer The Wrestling World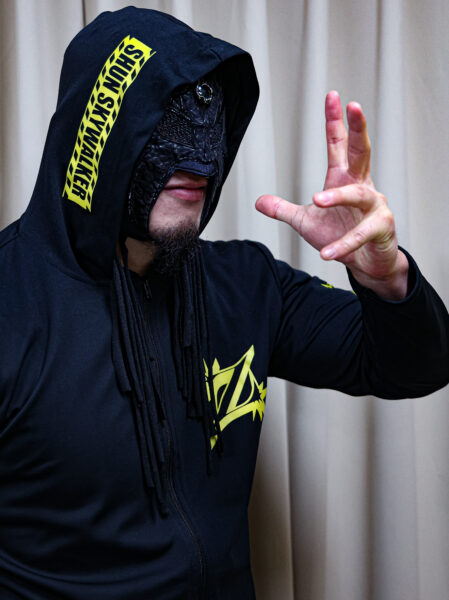 TEXT & PHOTOS BY ISSA MARIE
LAST TIME WE spoke with Dragongate's self-proclaimed savior, Shun Skywalker, he was headed to Mexico and the U.S., to show his ruthless strength and prove why he personifies the level of talent DG has to offer. And, in the two months since his return, Skywalker has been on a tear:
1. Took the Triangle Gate title from M3K
2. Championed the disbandment of HIGH END
3. Challenged for the Dream Gate Championship.
But what about his quest to end Kzy and NATURAL VIBES?
"We will, how do you say it …" he says, searching for the right words.
Put a pin in it?
"Yes, put a pin on that," agreed Skywalker. He then added, with a maniacal laugh, "for now!"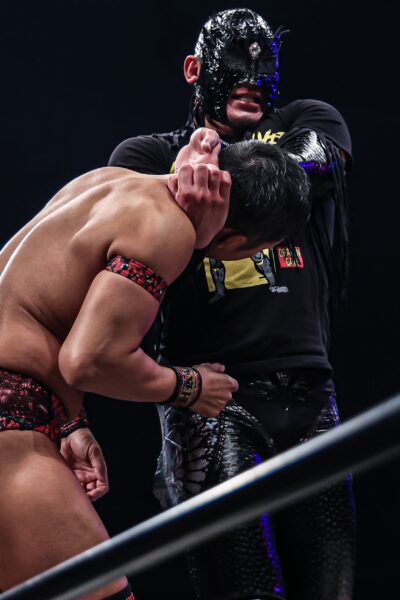 At this moment, Skywalker is applying some of the lessons he learned during his recent North American tour.
"While there are many great wrestlers in Dragongate, in America, I found many wrestlers with different talent, attributes, styles, wrestling psychology … something I had not seen or experienced before," he revealed. "I also returned to Mexico to train, gain new experience, work with the promotions I was not able to work with during the global pandemic, and wrestle luchadores I have wanted to work with, like Dragon Lee, Komander, Jack Evans, Aeroboy, and Ciclon Ramirez Jr."
Though he locked up with numerous wrestlers—and briefly wore the MLW World middleweight title—Skywalker was able to single out a favorite battle. "My match in GCW against Nick Wayne," he said, citing the teenage prodigy currently under a developmental-like deal with AEW. "His ideas and style embody what pro wrestling is. He has a great and promising future. And I am excited to see what the future holds for him … and what our next match will be like."
Originally, Skywalker indicates he had no immediate plans to return to the U.S. However, on November 24, he was announced as the second entrant in the 2023 edition of the celebrated Battle of Los Angeles tournament. The announcement prompted us to reach out to him for a follow-up.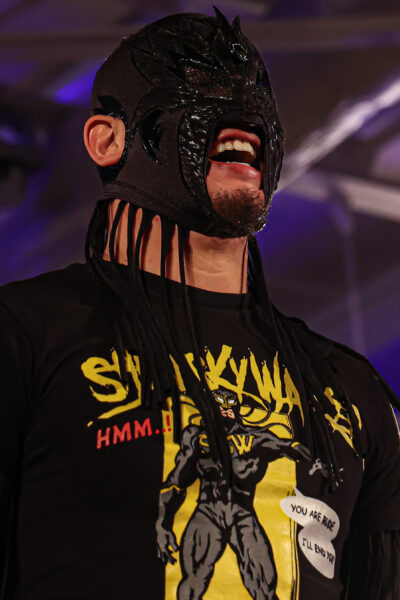 During his 2019/2020 excursion, Shun Skywalker had expressed his desire to wrestle at Pro Wrestling Guerrilla (home of the BOLA tourney) and face the likes of Bandido, Mike Bailey, A-Kid, and Lucky Kid. Unfortunately, the pandemic derailed any possibility of making those match-ups a reality. When Skywalker returned to Japan, he captured the prestigious Open the Dream Gate championship; however, the proverbial Gates were still closed worldwide. Now, there's nothing stopping him from continuing to show the world his style of wrestling; that he is, in his mind, the greatest wrestler on the planet; and why PWG wants Shun Skywalker.
"My first-round match is against Aramis, but I am also looking forward to the prospect of wrestling Konosuke Takeshita, Daniel Garcia, Lio Rush, Komander, and my teacher, friend, brother, and rival, Bandido," Skywalker said. "Three years ago, when wrestling shows were suspended, I spent most of my time in Mexico training with Bandido. He has beaten me twice, has made his mark in the world, is an AEW-contracted wrestler. But I do not think he is better than me. I have gained the power and the experience I did not have at the time we faced each other … and have evolved as a beautiful idol with a crazy spirit."
Skywalker, confident in his own abilities, has vowed that he will win the 2023 Battle of Los Angeles tournament. But he's also got other things on his wild mind. On Christmas Day, he interrupted Ben-K and Yuki Yoshioka as they thanked one another for the great match they'd just had—a gesture of goodwill that Skywalker did not appreciate!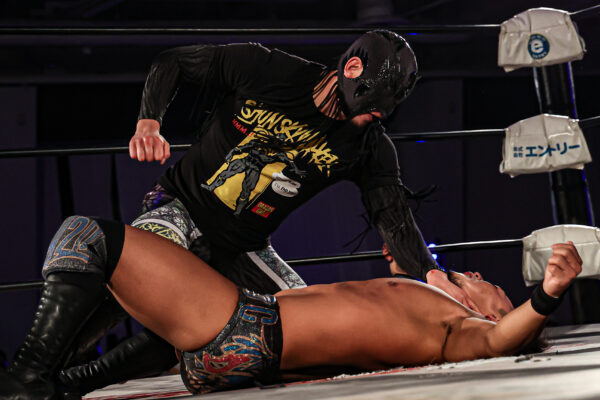 "Certainly, Ben-K vs Yuki Yoshioka was a good match," he acknowledged. "In pro wrestling, there needs to be respect between opponents. However, wrestlers do not need to make commercialized praise and shows of affection. When I heard their declarations in the ring, I grabbed a microphone and spoke my mind."
In his view, the current Dream Gate champ is simply not the best man for the job. "Yuki Yoshioka should not hold the title that shined the brightest when it was mine," he said. "I do not want the Dream Gate championship [belt] that he has…I detest the title 'HE' holds and I have no interest in carrying that unnecessary baggage. But, I do not want someone who is weak, has devalued the title, and whose stupid fans just love his cheap impressions. So, I issued the challenge."
And we do not have to wait long to see that match! Dragongate General Manager, Ryo Saito (SaiRyo), made the title bout official for the company's January 12 Korakuen Hall show. Taking place just days after Skywalker's PWG jaunt, the DG show will be streaming live via dragongate.live with English commentary.
Make sure you subscribe! Because, the day before that match, Shun Skywalker and the rest of Z-Brats will be involved in a unit-disbandment match against HIGH END (YAMATO and Dragon Kid), with the assistance of Takashi Yoshida and Problem Dragon.
"In Dragongate, broken or incomplete units are unnecessary," said Skywalker. "In the hierarchy of units, HIGH END does not belong or deserve the place they continue to hold. SaiRyo, as a former wrestler, and now GM, has betrayed the unit code and has used his power and position to allow for the emotional nepotism they represent. If the GM is not apt to do his job, then Shun Skywalker will take over. I will enforce my laws and police all the undeserving talent in Dragongate."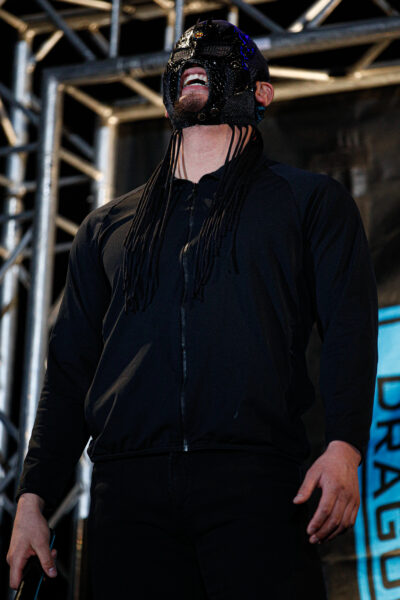 Though he may be a little autocratic, Skywalker still knows where his bread is buttered. Thus, he has a message for fans who watched him on his most recent excursion. "I know you enjoyed my matches," he said. "I understood when you said, 'I love Shun, I want Shun, I need Shun in my life.' I know you want me back and want me booked at those shows again. Do not forget to remind the promoters to do so."
---
シュン・スカイウォーカーの夜明け
TEXT & PHOTOS BY ISSA MARIE
前回の取材では「ドラゴンゲートの救世主」を自称するシュン•スカイウォーカー選手が、自身の冷酷な強さやドラゴンゲートの最高峰な選手であることの証明のために北アメリカ大陸へ向かったところまで。そして彼はこの2ヶ月の間に以下の功績を残した:
M3Kからトライアングル・ゲート奪還
HIGH ENDの解散宣言
オープン・ザ・ドリーム・ゲート挑戦表明
ですがKzyやNVの駆逐はどうなっていますか?
「どう表現すればいいでしょうか?」と探りながら考えてるスカイウォーカー選手。
あとにする?
笑いながら「あとにしよう。そう、今の話をね」
現在のスカイウォーカー選手は北米ツアーでの経験を日本に活かしている。「ドラゴンゲートは素育らしい選手がたくさんいるが、アメリカのいくつかの選手は今まで僕が考えたことのない能力、特徴、スタイルやプロレス哲学を持っていた。また2年ぶりにメキシコへ帰って、たくさん経験に積んでコロナ禍で出場できなかった団体に出場して、ずっと戦いたかったドラゴン・リー、コマンデル、ジャック・エヴァンス、アエロボーイ、シクロンラミレスJr.というルチャドールとも肌を突き合わせることができました。」
多くの選手と試合をし、MLW世界ミドルウェイト王座も一時期獲った中、一番楽しかった試合を尋ねると彼はすぐ答えられました。
「GCWでのニック・ウェイン戦です。」
AEW所属の若手鬼才選手だ。
「彼の考えやスタイルこそがブロレスだ。将来もとても期待できるし、楽しみにしています…彼との次の対戦も。」
元々スカイウォーカー選手はアメリカに戻る予定はなかったが11月24日PWG 「Battle of Los Angeles 2023年」に出場することになりました。その発表で今回の記事に至りました。
彼は2019-2020年の遠征中にPWGでバンディード、マイク・ベイリー、A-Kidやラッキー・キッドといった選手と対戦したいとの意向を示していた。しかし残念ながら、パンデミックによってそれらは叶えられなかった。ドラゴンゲートに帰還してオープン・ザ・ドリーム・ゲート王座を取ったが水際はまだ緩和されなかった。
現在は彼のプロレスを示し続けることを止められるものは何もない。
「世界最高レスラー」はPWGがシュン・スカイウォーカーを欲しがる理由についても語った。
「一回戦の相手はアラミス選手ですが、竹下幸之介、ダニエル・ガルシア、リオラッシュ、コマンダーそして先生であり、友人、兄弟、ライバルであるバンディードも楽しみです。3年前にコロナの影響で大会ができなくなった時ほとんどの時間メキシコでバンディードとトレーニングしました。その後、彼は世界に名を講かせて今はAEW所属となりました。ただそれは、彼が僕より強い事を表す事象ではない。彼はシングルマッチで2度僕を葬っているが、それは5年近く前の話。前回と比べて力、経験を増して…今は常人にはない魂を持つ美しい才能へと進化しました。」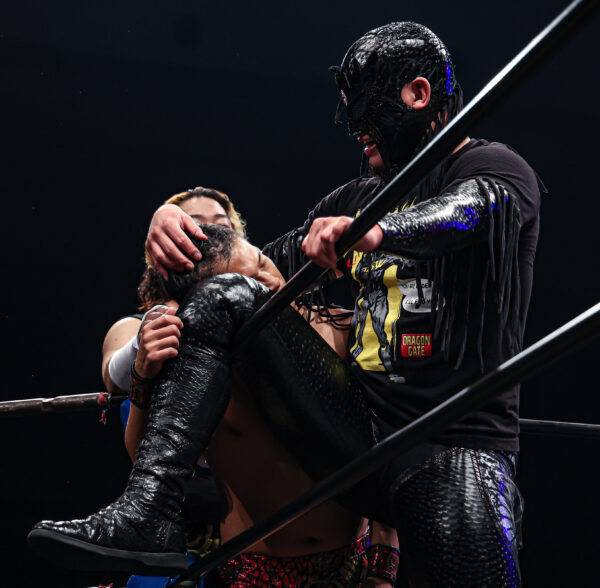 スカイウォーカー選手はご自身の能力に自身を持って今年のBOLAを優勝することに宣言した。クリスマスの日にBen-Kと吉岡勇紀がお互いに素晴らしい試合を感謝しあっているところに割り込んできた。スカイウォーカー選手にとって気に食わない行動だった。
「確かにBen-Kと吉岡勇紀は素晴らしい試合だった。プロレスでは、お互いにリスペクトが必要だ。だが、こんなくだらない褒め言葉や愛情表現なんていらない。あれを聴いたら思わずマイクを持って本心を言った。」
「一緒にメキシコ遠征でトレーニング相手であり元同士でもある吉岡選手はそれだけで済ませない。」彼にとって、現ドリームゲート王者である吉岡選手は最適な人物ではないことを公言した。「吉岡は、私が持っている時に最も輝いていたタイトルを持つべき選手ではない。ドリームゲート王座がこんな…余計な荷物(吉岡選手)を背負わせるなんて興味がない。しかし弱くて、タイトルの価値を下げて、愚かなファンが安っぽい印象が好きになった王者は気に食わないので挑戦しました。」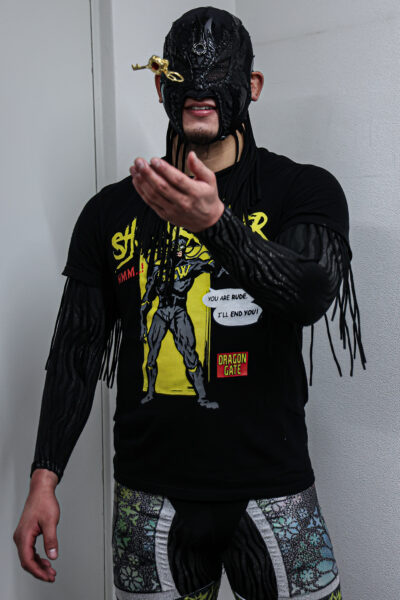 ですがあまり長く待つ必要はない!ドラゴンゲートゼネラルマネージャーである斎藤了さんは1月12日の後楽園ホール大会でのタイトルマッチを正式にご決定した。スカイウォーカーのPWG遠征の数日後に行われる大会は、英語の解説付きでdragongate.liveで配信される。
今のうちに加入ください!
しかも、その試合の前日に、スカイウォーカー選手とZ-Brats、HIGH-ENDのYAMATOとドラゴンキッドが吉田選手と問題龍選手の協力を得て、ユニット解散マッチが見れます!
「ドラゴンゲートには、ガラクタや不完全なユニットは不要だ」とスカイウォーカー選手は言い放った。「HIGH-ENDは、数あるユニットの中でも不要な存在です。元レスラーであるGM斎藤了は、ユニットと認められる要件を設けず、権力を利用して彼らが楽徴する縁故主義を広めているのです。斎藤了が妥当なGMでなければ、このシュン・スカイウォーカーが引き継ぎます。僕なりの法を整備しドラゴンゲートの不相応な選手含め全てを牛耳ってもいい。」
少し独裁的ですが、スカイウォーカー選手は欲しいものを手に入れる方法を知っている。遠征でファンになった方々に一言メッセージを送ります!
「試合は楽しいだろう。"シュンが好き、シュンが欲しい、人生にシュンが必要だ"きっと早く戻ってきて欲しいのでしょう。早くブッキングしてほしいでしょう。だったらプロモーターに伝えておいてね。」