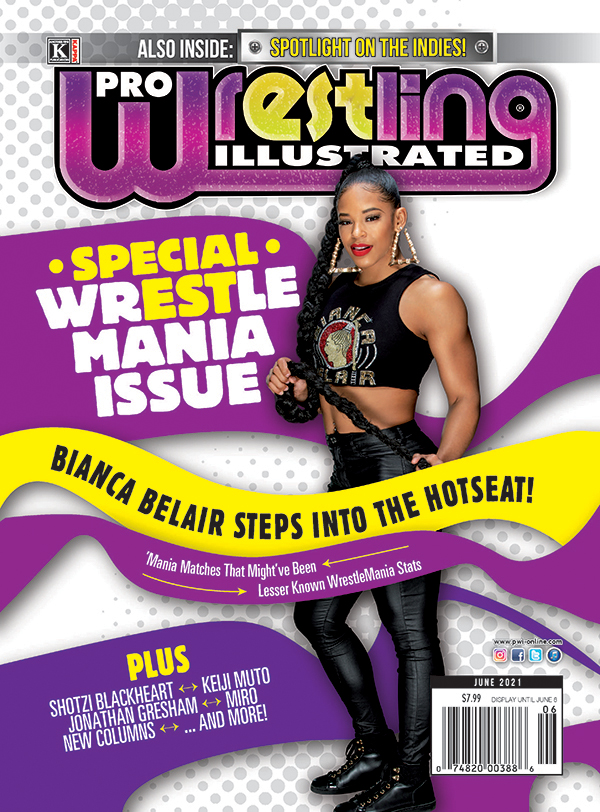 RAW Women's Champion Bianca Belair Talks Equity and Obstacles During Virtual Summit Panel for Front Office Sports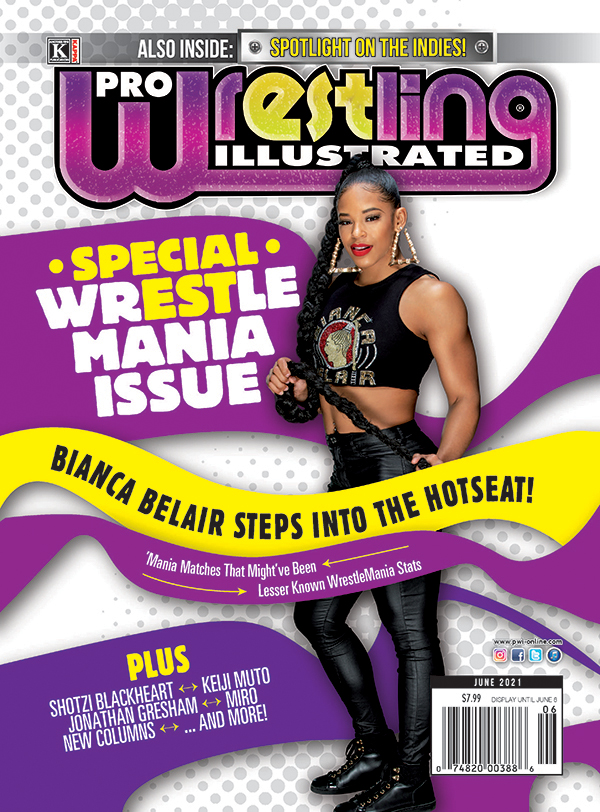 WWE SUPERSTAR BIANCA Belair took part in Front Office Sports' "Trailblazing Pros On Breaking Barriers" panel on Thursday, June 23. The panel was one of several introduced as a part of this year's "Title IX: The Next 50 Years" virtual summit hosted by the media brand. With Sports Innovation Lab CEO and co-founder Angela Ruggiero and Just Women's Sports Content Strategist Haley Kopmeyer, who was also the acting moderator, Belair gave her thoughts on a number of topics, including the biggest obstacles she's faced upon becoming a WWE Superstar, equity, and her future goals.
Below are the current RAW Women's champion's thoughts on those and much more:
When asked how she became a WWE Superstar:
"I was a collegiate hurdler at the University of Tennessee. (I finished up at the University of Tennessee.) After that, I missed that competitive atmosphere. I got into CrossFit, and I was really just expressing myself with wearing crazy outfits and outlandish outfits. Hall-of-Famer Mark Henry discovered me and said, 'Hey, you have everything it takes to be a WWE Superstar. I see it in you. I can get you a tryout, but I can't get them to hire you.' It took me two tryouts, and now I've completely fallen in love. I never imagined myself being a WWE Superstar, but now I can't imagine myself being anything other than that now. It was just a perfect fit."
When asked what was the biggest obstacle she's had to overcome:
"I think there were two for me. Initially, it was coming into [the] WWE [without] any knowledge of what I was getting myself into. I didn't really watch wrestling growing up, and I came in with zero experience. I've played sports since I was five years old, and I was able to pull from almost [every] sport to go into the other sport. With WWE, I just had no idea what I was doing. I didn't know the culture. I didn't know the history. I felt like I was just constantly playing catch up and having to prove myself that I belonged there. For a while, I felt like I was stealing someone else's dream that had maybe dreamed of being in the WWE since they were a kid, and that wasn't me. My biggest obstacle was just really starting from zero and feeling like I had to prove myself and dealing with imposter syndrome throughout the way."
"My second obstacle—I think that I came into WWE [at] an amazing time where women were beginning to get these amazing opportunities … I was in that time where we were having all of a sudden the first-ever women's match for this occasion, the first-ever women's match for this occasion, the first-ever women's main event. I was having to rise to the occasion and [was] dealing with all that pressure and feeling like, Okay these moments aren't just about me, it's about representation, and it's not just about letting myself down, but letting other people down. It was really just living up to the expectations of—not just my own expectations, but the expectations of others—and proving that women do belong in these spaces."
When asked about her thoughts in regards to pay equity and improved facilities for women in the present and future:
"We've come a long way, but I still feel like we have a long way to go. With WWE, we've done amazing things along the way with women where we have grown so much. In WWE we're at a time now where … we're main-eventing on a weekly basis throughout our shows. We're main eventing at WrestleManias. I was one of the first Black females to main event at WrestleMania, and that led to winning an ESPY. I feel like it's now becoming where we're celebrating women for doing these unprecedented moments, but I want it to get to a point where it's now the norm. The conversation is shifting from, 'That was the best women's match I've seen, of all-time," to, "That was the best match that I've seen, of all-time.' We [WWE's female superstars] have been able to go to Saudi Arabia and perform. In 2019 we had the first-ever women's match in Saudi Arabia, and I was able to be a part, in February, of Elimination Chamber. So we're always focused on it's great for little girls and women to see us in these positions, but push the conversation that it's even more important for little boys to see us in these positions and to see women represent in this way. Because, a lot of times, there's a lot of men that make the rules or that open the doors and allow these opportunities, and we just need those opportunities. I just want the conversation to continue shifting from 'What more do women need to do to have equal opportunities and equity?' to [where] we don't need to do anything more. We just need those opportunities because we always show up and we always shout out. We've just seen that with Amanda Serrano and Katie Taylor, where they were able to main-event and headline in Madison Square Garden. It was amazing. I was able to be a part of that. It was considered the biggest women's boxing match of all-time. But I can't wait till it gets to the biggest boxing match of all time."
When asked how WWE is currently supporting women and building the next generation of superstars:
"The amazing thing about WWE [is] any woman can watch and they will find someone on television or on the roster they can relate to. That's what I love about [the] WWE. We don't just put women in one box. We're in a space [where] we're comfortable to be ourselves and we represent what being a woman means to us. We're putting women in prominent storylines. We're all about storytelling—that's how we reach our consumer, and that's how we reach our audience, through storytelling. We're continuing to push women out there. We have women that embrace their femininity. We have women that embrace their strength. We have women that come from all different backgrounds. We have women that have just had children and are coming back and showing that you can have it all. We're really just continuing to push women in that direction and changing the conversation—that women can do just as amazing things as men sometimes and even … better.
A [recent] tweet that really touched me was from a mom that brought her son to a show, and her son said, 'Look, Mom, look at Bianca Belair! She's doing all the things that the men are doing!' The mom responded, 'Yes she is, and even better.'
We have an NIL [Next in Line] program … where we're able to recruit women and help them develop themselves into future potential superstars in WWE. For me, I kind of had to figure it out on my own. It took me a couple of years after being a collegiate athlete to get into WWE and find my way. Now, WWE has a clearer pathway for women to find their way into [the company].
It's amazing. And I feel like, especially as a woman after college and [for] collegiate athletes, I feel like we don't always have as many opportunities as the men in high-profile sports organizations or have a lot of higher pay. Having this clear pathway into WWE, I think, is an amazing thing, especially for women coming out of college."
Thoughts on the best advice she's ever received:
"I feel like I've gotten so much advice. [laughs] A lot of good advice. I think, for me, the one thing that sticks with me is a quote. 'Don't just learn history, but create history.' I think we all, especially us women, go through the history of how far we've come. And I think that it's great, and we need to know what people have done … the women, what they have done before us to pave this road for us. But also, be a part of that history. Create your own history. Be comfortable with trying. Try everything, because you may not know what you may be good at. I tried WWE. I had no idea that I would be good at this. But, because I tried it, I was able to discover a new part of myself. I'm all about being 'The EST,' and that's what I represent when I walk into WWE. Being 'The EST'—being the strongest, the fastest, the roughest, the toughest, the quickest, the greatest, the best—it's just about being the absolute best version of yourself and trying and starting over every single day.
You'll eventually get to where you need to get to. Especially as a woman, you need to show up as your authentic self. You don't have to choose one part of yourself to present. You don't have to place yourself in this little box. You can be everything that you want to be. When you do that, people are able to relate to you and grasp onto that. Every woman needs to be able to look at the screen and see someone that they can relate to and that inspires them to just be themselves."
On what's next for the WWE Superstar:
"For now, I am the RAW Women's champion. For me, it's just all about … finding my 'why.' My 'why' is to inspire people. I know my role models changed the whole trajectory of my life, so I just want to give that back to everyone else and inspire them and just continue to change the perspective of [the] female wrestler. We are everything. We're not just wrestlers. We are athletes. We are performers. We are activists. We are representation."
---
Bianca Belair is scheduled to defend her RAW Women's championship against Carmella, on Saturday, July 2, at Money in the Bank.
Please credit Candace Cordelia Smith/Pro Wrestling Illustrated for any use of the above transcribed text.