JUNE 2022 ALTERNATE COVER #2: Matt Cardona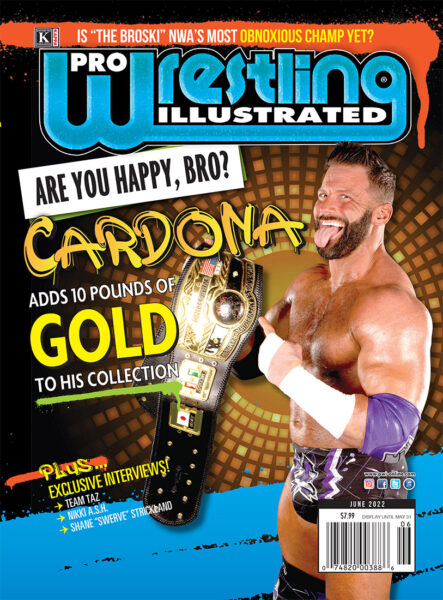 The National Wrestling Alliance (NWA) figures prominently into the June 2022 issue of Pro Wrestling Illustrated—on newsstands now—with a feature story on reigning NWA World champion Matt Cardona and a special "12 Questions" feature with NWA World Women's champions The Hex (Allysin Kay & Marti Belle). The magazine, which features former Raw Women's champ Becky Lynch on the cover, also includes interviews with stars from WWE, AEW, and the independent circuit.
As we mentioned in an earlier post, we've opted to create an alternate cover featuring reigning World Women's tag champs The Hex—who, with their recent accomplishments, have quite palpably helped put women's tag team wrestling back on the map.
Predictably, when we revealed that our first alternative cover featured not the World heavyweight champion, but the World Women's tag champions, Cardona was not amused. In order to FINALLY put this disagreement to bed, we defeatedly offer this free, digital-only download of our OFFICIAL Alternate Cover #2 (same specs as our print magazine) for the June 2022 issue of Pro Wrestling Illustrated, NWA World heavyweight champion Matt Cardona with the most coveted of his many title belts. You win this round, Cardona.