JUNE 2022 ALTERNATE COVER #1: THE HEX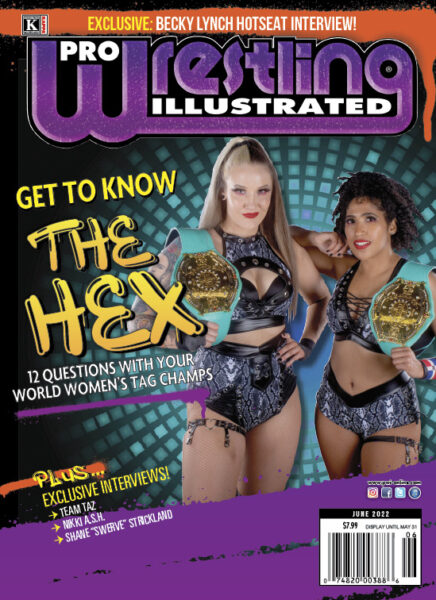 The National Wrestling Alliance (NWA) figures prominently into the June 2022 issue of Pro Wrestling Illustrated—on newsstands nows—with a feature story on reigning NWA World champion Matt Cardona and a special "12 Questions" feature with NWA World Women's champions The Hex (Allysin Kay & Marti Belle). The magazine, which features former Raw Women's champ Becky Lynch on the cover, also includes interviews with stars from WWE, AEW, and the independent circuit.
As you'll note from the photo above, we've opted to create an alternate cover featuring reigning World Women's tag champs The Hex—who, with their recent accomplishments, have quite palpably helped put women's tag team wrestling back on the map. More on that in a moment …
While we ultimately decided to recreate this cover with an image of The Hex, we should extend credit for the idea to Matt Cardona, who has been campaigning for his own inclusion on the cover of PWI for months now. We outright acknowledged this in the Cardona feature in our June issue.
The issue escalated slightly when we informed Mr. Cardona that we wouldn't submit to his demands. However, we pressed on (literally). After the issue was released, featuring Becky Lynch's photo front and center, "The Broski" hit back with a new demand: that we release an alternate cover for the issue.
And here we are. While we agreed to Cardona's request, we were quick to note that he never specified who or what should be on the cover. Enter The Hex, who, as mentioned above, is the subject of our latest "12 Questions" feature in the same issue.
In addition to not threatening us, vaguely or otherwise, Allysin Kay & Marti Belle made history last year by winning the newly reintroduced NWA World Women's tag team title in a tournament final at NWA Empowerrr. Since then, they've gone on to wear tag team gold in prominent women's promotions SHINE and Pro Wrestling: EVE in the U.S. and U.K., respectively. They've also defended the NWA tag belts proudly in the NWA, various independent promotions, and even overseas.
For that reason, we are thrilled to offer this free, digital-only download of our OFFICIAL Alternate Cover (same specs as our print magazine) for the June 2022 issue of Pro Wrestling Illustrated, featuring Kay & Belle with their World tag team title belts. Hope you enjoy the cover, champs!