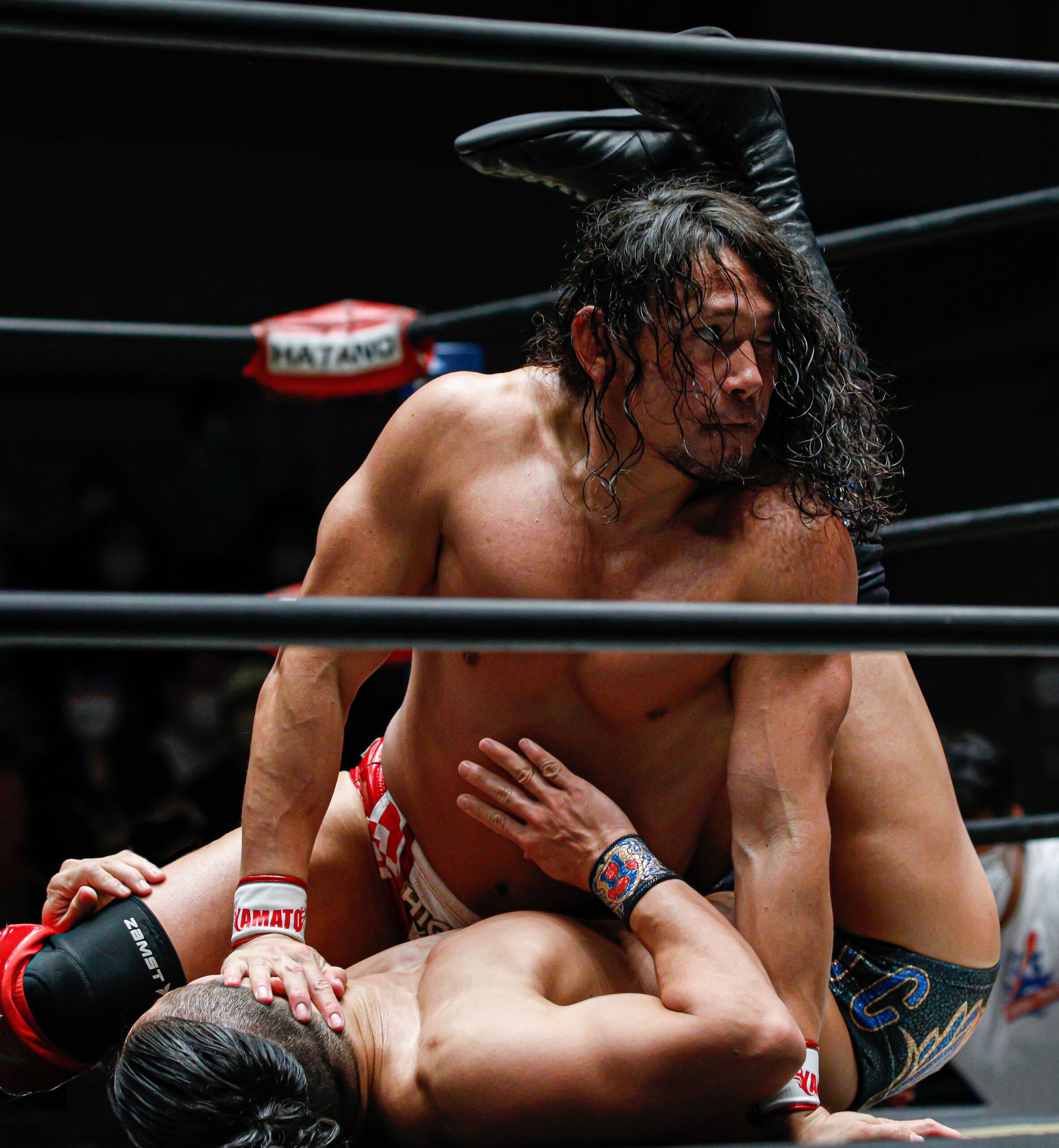 U.S. FANS WILL BE STANDING WITH THEIR YAMATO SPIRIT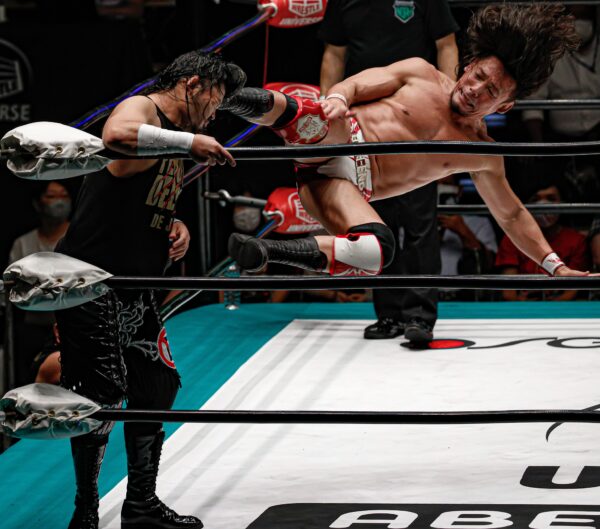 Text & Photos by Issa Marie
DRAGON GATE'S ACE, the record-setting five-time former Open the Dream Gate champion, and certified food coordinator, YAMATO will be making his GCW, AAW, Garden State ProWrestling, and Prestige Wrestling debuts, as the"Gates" have now been opened.
Recently, I had the pleasure and privilege to discuss the upcoming tour with YAMATO, who acknowledged that Dragon Gate's visibility has waned a bit in the States.
"It has been seven or eight years since I last represented [Dragon Gate] in the U.S., back when Dragon Gate U.S.A. had a strong grasp of the fan base and was recognized as a staple of pro wrestling.  Due to the years of absence, I am aware that most people are not as familiar with DG, and some only remember DG U.S.A.  Therefore, I am the best advocate to remind the fans what Dragon Gate is all about."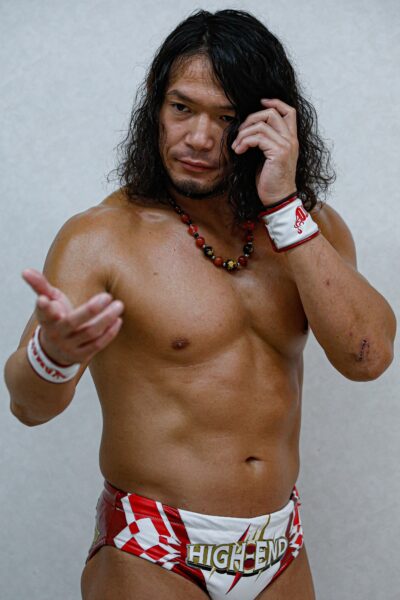 During the days of DG U.S.A., YAMATO was part of the younger generation of wrestlers. In October 2022, he will be returning as an established veteran, personifying the professional progression one can experience wrestling for the company.
Rest assured: The issues between his unit, HIGH END, and GOLD CLASS will not be distractions during his time away from Japan. "Going overseas, I have to think big, so I am leaving all the baggage and issues at home," said YAMATO. "Dragon Kid and Kagetora can handle whatever there may be left to resolve.  I am focused on what I want to accomplish in the U.S."
And what exactly does that mean? "If YAMATO is in it, YAMATO is winning it," he said. That includes his upcoming participation in AAW's Jim Lynam Memorial Tournament, October 14 and 15; and his Prestige Wrestling heavyweight title bout against Alex Shelley on October 30.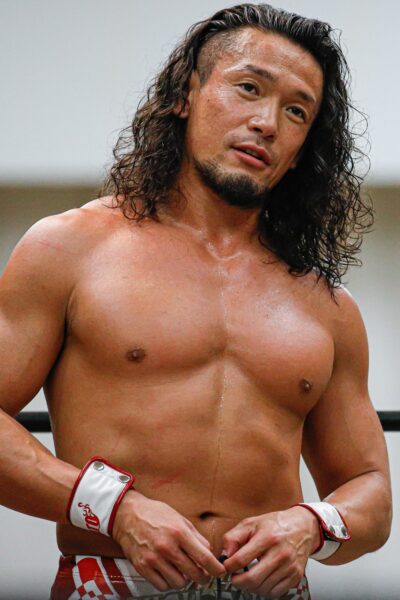 YAMATO's confidence is well-earned. But will it continue in his eventual return to Japan? "That is tough to answer right now," said YAMATO, even after the current Open the Dream Gate champion, Yuki Yoshioka, let the world know he has his sights set on the "Almighty." "My aim is to increase the spectrum of DG fans [in the U.S.] and show them what Dragon Gate is all about. However, as a five-time Open the Dream Gate champion, I have the right to challenge on prestige alone. If all goes well in the U.S., and I return motivated and inspired, I will go after the goals I have yet to accomplish."  During YAMATO's Homecoming Show in Iwate, the Open the Dream Gate Championship Match was decided for Gate of Destiny–YAMATO vs Yuki Yoshioka.
For the fans that may remember him—and for those that do not know him—the "Ace" has some words. "I am confident that I can make a huge impact, and I will show you what YAMATO and Dragon Gate are all about," he said.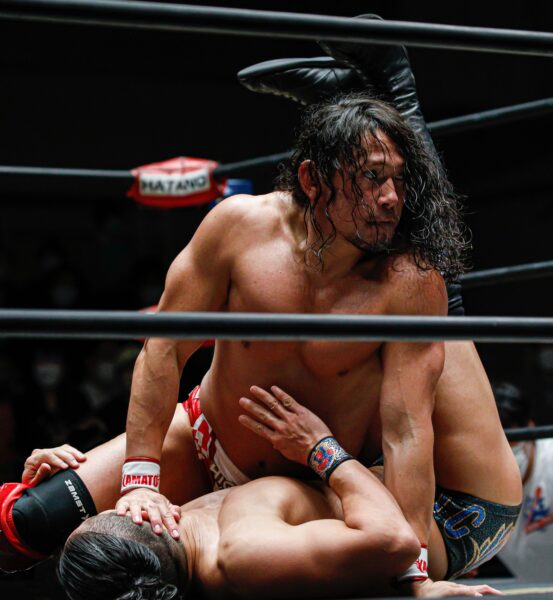 Whether he is embracing his darkest desires or full of emotion admitting he has not always behaved as he should, YAMATO has proven time and time again why "He Is Justice," and that being "Omniscient & Omnipotent" comes with his territory.
Above all, everything he does in and out of the ring is for the rectitude, for the respect, for benevolence, for the courage, for the loyalty, for the honesty, and at the end of the show, every single fan will be standing there with their YAMATO Spirit!
YAMATO's U.S. Schedule (as of September):
GCW
October 8 vs. Tony Deppen
October 9 vs. Mike Bailey
October 22 vs. Jonathan Gresham
October 23 vs. Blake Christian
October 29 TBD
AAW
October 14 vs. Zachary Wentz
October 15 TBD
Prestige Wrestling
October 30 vs. Alex Shelley
RECOMMENDED VIEWING:
YAMATO vs Minoura Kota, Dangerous Gate 2021
YAMATO vs KAI No Ropes Match 
Tag Team Cagematch (YAMATO & KAI vs SB KENTo & Dragon Kid)
YAMATO vs Shun Skywalker, SPEED STAR final
U.S. FANS WILL BE STANDING WITH THEIR YAMATO SPIRIT
オープン・ザ・ドリームゲート王座最多戴冠回数5回を持ち、フードコーディネーター3級の資格を持ち、そして何よりDRAGONGATEの"エース"であるYAMATO選手はGCW、AAW、Garden State Pro WrestlingとPrestige Wrestlingへの「ゲート」が開かれた!
今回も運良くYAMATO選手と話す機会を頂いて、アメリカ遠征やアメリカでの知名度の低下について語りました。
DRAGONGATE USAがファンをしっかり掴んで認知されていた頃には私が最後にアメリカでDRAGONGATE日本代表として7、8年が経ちました。 そのため、大抵の人がDRAGONGATEになじみがなくなったかDRAGONGATE USAしか覚えていないことも承知しています。"DRAGONGATEとは何か "をファンに思い出してもらうためには、私が一番相応しい方です。
DRAGONGATE USA時代にYAMATO選手は若手世代だったが2022年10月頃は経験値やキャリアを積んで立派なベテランとして再びアメリカに戻っることにします。
ご安心を。専属するユニットHIGH ENDとGOLD CLASSとの対抗戦は日本に離れてもあまり気にするはないだろう。「海外に行くからには大きく考えなければならないので、日本の問題はアメリカに持ってこない。ドラゴン•キッド選手やKagetora選手がいれば何とかなるさ。北米で成し遂げたいことに集中しています。」
それは具体的に何でしょうか? 10月14日から15日に掛けてAAWプロレスの"ジム・ライナムメモリアルトーナメント"や10月30日のアレックス・シェリー選手とのPrestige Wrestlingヘビー級王座戦についてこう言った:「YAMATOが参戦したらYAMATOが勝つだろう」。
現在の自信溢れるYAMATO選手ですが、その自身は日本に戻ったら続くのだろうか?
現オープン・ザ・ドリームゲート王者の吉岡勇紀選手は"全知全能の男"に目標として定めていた後も彼はこう言った:「今はまだ答えられない。現在の目標はアメリカのDRAGONGATEファンを増やし、DRAGONGATEとは何かを改めて知ってもらうことです。しかし、オープン・ザ・ドリームゲート王座5回も成し遂げたものとして挑戦する権利があります。アメリカでの試合が上手くいって、良い刺激を受けてやる気満々で帰国できたらまだ達成していない目標に向かって頑張っていきます。」
YAMATO選手を覚えている方はもちろん、知らない方にもDRAGONGATEのエースはこうい言った:「きっと大きな衝撃を与えることが確信しています。そして、YAMATOやDRAGONGATEとは何ぞやということをお見せしたいと思います。」
自分の欲望を受け入れても、感情的になってワガママになっても「YAMATOこそが正義」であり、「全知全能」であることを何度も何度も証明してきたのです。
何より、リング内外の行動は正義のため、尊敬のため、博愛のため、勇気のため、忠誠のため、誠実のためであり、試合の終わりには、すべてのファンがYAMATOスピリットを持ってそこに立っていることでしょう!
YAMATO選手アメリカ遠征一覧表:
GCW
10月8日:対トニーデッペン
10月9日:対マイク・ベイリー
10月22日:対ジョナサン・グレシャム
10月23日:対ブレーク・クリスチャン
10月29日:未定
AAW
10月14日:対ザカリ―・ウェンツ
10月15日:未定
Prestige Wrestling
10月30日:対アレックス・シェリー
おすすめ試合:
YAMATO VS 箕浦康太・デンジャラス・ゲート2021
YAMATO VS KAI 遺恨決着‼ノーロープ&ランバージャックマッチ
https://www.youtube.com/watch?v=4R-5MsxmY7s&feature=youtu.be
マスカラ・コントラ・カベジェラ 金網サバイバル・タッグマッチ
YAMATO/KAI vs ドラゴン・キッド/SB KENTo
https://www.youtube.com/watch?app=desktop&v=mEqUfgbqtjI&feature=youtu.be
SPEED STAR FINALオープン・ザ・ドリームゲート選手権試合
シュン・スカイウォーカー対YAMATO
https://www.youtube.com/watch?v=bJ0CHiONvHY
YAMATO選手の YouTubeチャンネル:「多趣味のススメ」
https://youtube.com/channel/UC0saTxYrUYCawiweutZiBhQ