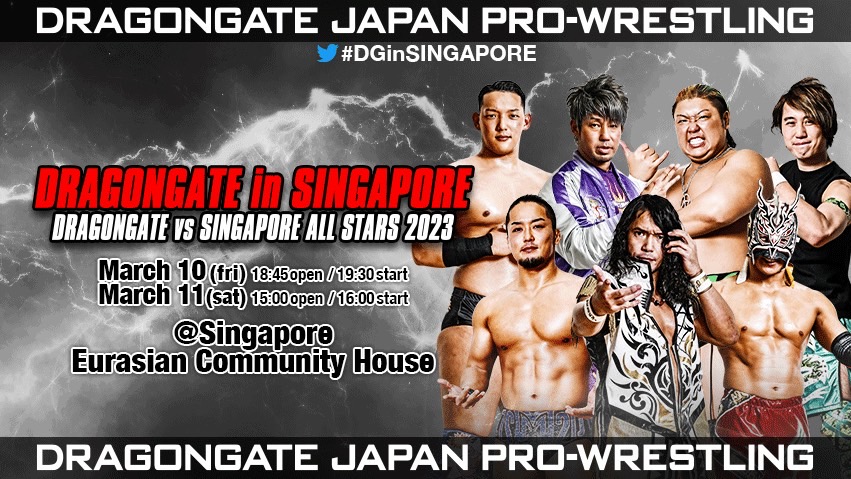 #DGinSingapore Will See Dragongate Wrestlers vs. Singapore All Stars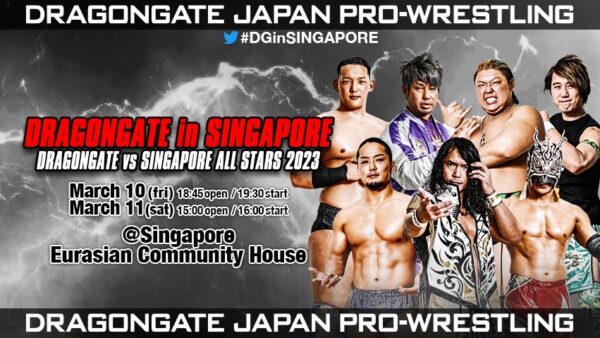 TEXT BY ISSA MARIE
THE GODFATHER OF South Asian pro wrestling, Ho Ho Lun, is bringing Dragongate back to Singapore after a lengthy absence—continuing in his quest to show the beauty of pro wrestling across Asia!
This latest outing comes on the heels of an action-packed #ChampionGate2023 weekend, where we saw Jason Lee be crowned Open the Brave Gate champion in a must-watch match against Minorita, Shun Skywalker leverage his experience to escape with the win over Killer (Strong) Machine J, and D'Courage lose after an impressive #ReydeParejas2023 Tournament showing. Now, a team of Dragongate's best is headed to Singapore to face the 2023 "Singapore All Stars," in collaboration with Ring of Rebirth on March 10 and 11.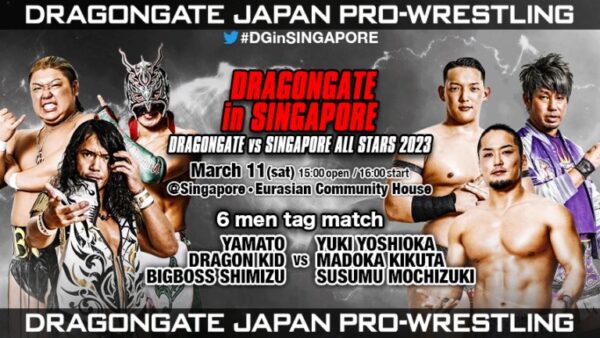 When asked which match, from a fan perspective, he was looking forward to the most, Lun did not hesitate in response. "Of course, the main event match of night one, the Horrors (Dr. Gore and Da Butcherman) vs. YAMATO and Dragon Kid," he said. "It's going to be a great match!"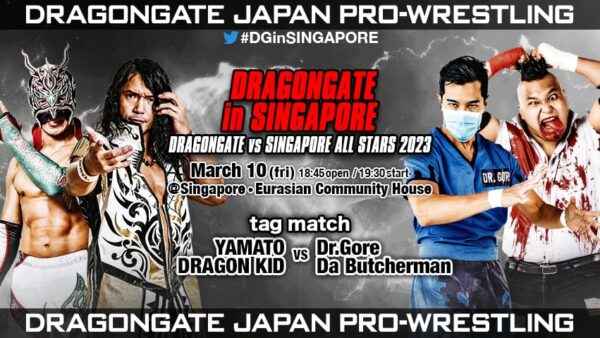 And if you have been paying close attention on social media, you know this battle will be the talk of the town, from facial makeover threats to scalping. With the (questionable) "Super Baby Face" YAMATO's evil self now resurfacing, to the point where there is no way to tell which version of YAMATO we are getting, this match is poised to steal the show.
Lun also wants fans to keep an eye out for the rematch four years in the making, pitting BIG BOSS Shimizu "The Statement" Andruew Tang. Shimizu has the height and strength advantage on paper, but never count out Tang out. Could this contest lead to a potential challenge from the Singaporean grappler for the Open the Twin Gate championship? Shimizu's recent whirlwind tour of the U.S., which saw him mount three defenses of that title in seven days, certainly gives an edge of freshness to his opponent here.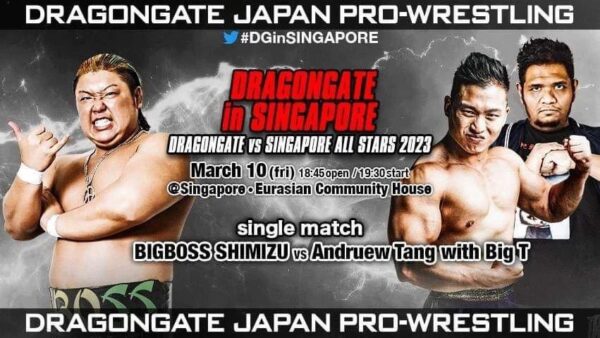 Elsewhere on the card, Susumu Mochizuki is set to face DJ KAL. In addition, Erfie, Ahmad Arif, Showtime, Jullian, Crypto Bro LK, Jacky Ng (with Caramel Prata), and Big T will be in action throughout the weekend.
Lun, not one to be left out, is teaming with D'Courage's Yuki Yoshioka and Madoka Kikuta to face Aiden Rex, BIG DAVE, and The Eurasian in a six-man tag. Six-man bouts have become a signature of Dragongate, continuing to make the company stand apart from all other promotions worldwide.
While night one will offer local fans a taste of six-man action, the Singapore live crowd will be treated to a proper Dragongate trios match on night two, when the aforementioned Yoshioka and Kikuta team up with Susumu Mochizuki to take on YAMATO, Dragon Kid, and BIG BOSS Shimizu.
If you live in Singapore or are happen to be traveling to Singapore in the coming days, head over to the Eurasian Community House on March 10 and 11 to watch some amazing pro wrestling.  Tickets can be purchased via Peatix or by contacting the wrestlers (Lun included!) directly. 
For those who cannot attend, the shows will be made available on the Dragongate Network at a later date, so please ensure you are subscribed.