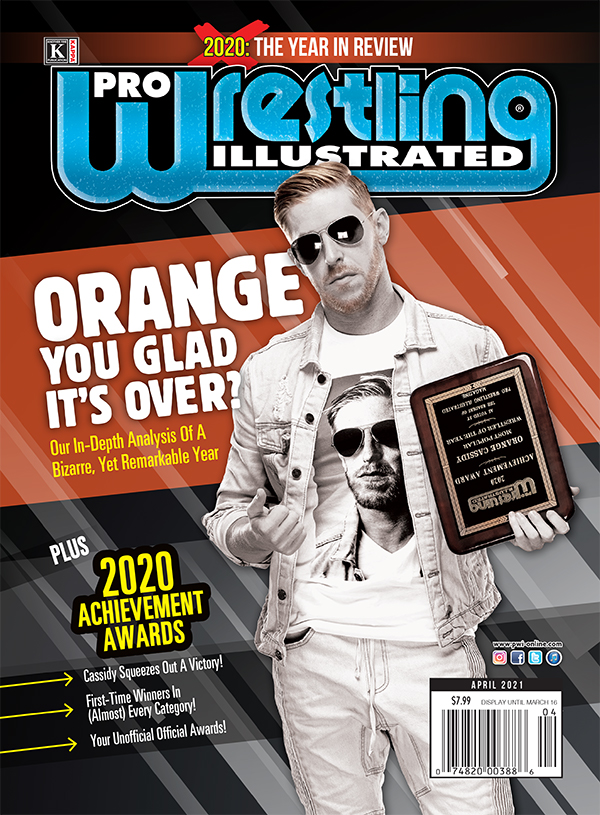 From The Desk Of … (April '21)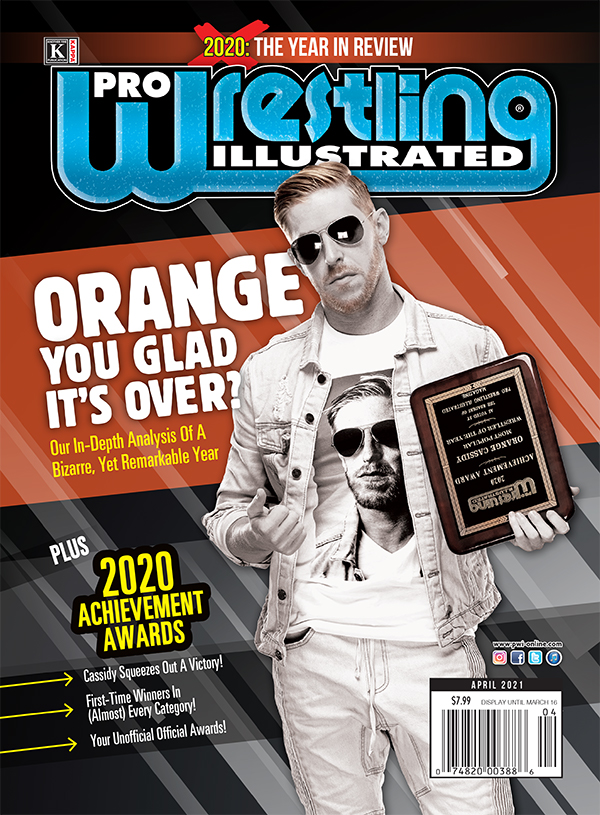 By the time you read this, 2020 will officially be in the rearview mirror. This was a difficult year for wrestling. Government-mandated shutdowns led promotions around the world to shutter their doors … some never to reopen. Economic concerns forced reliable venues to close, as well as some journeyman independent grapplers to hang up their boots for good. With independent wrestling events shut down worldwide, the #SpeakingOut movement offered survivors of abuse and assault a receptive audience to share their stories. While the movement was inspiring, the alleged conditions that led to it were, of course, anything but.
WWE and AEW continued to operate, running shows throughout the pandemic. Each company was impacted at various points by COVID—not only because of lost revenue, but by talent and crew who either contracted the virus or had to quarantine after being exposed to it. Fans and pundits alike continue to debate whether running shows in 2020 was actually a good idea, but you know what they say about hindsight.
Personally, 2020 was a year of tremendous highs and lows. If you're a regular reader, you likely know that I was tapped by Stu Saks to take over the role of Editor-in-Chief of Pro Wrestling Illustrated. It's been an absolute joy to work on this magazine full-time. I've learned so much about the history of PWI while aiming to help it evolve. But, away from PWI, this has been the most challenging year I could have imagined.
Back in April, my grandmother, who had long suffered from dementia (and lived in a nursing home), was taken from us by COVID. Hundreds of thousands of families this year came to know the pain of mourning that was delayed, isolated, or otherwise less than ideal.
Around the same time my grandmother passed, my wife Megan was struggling with escalating G.I. issues that were clearly more serious than the acid reflux her doctor had initially suspected. It took us months of specialist appointments and tests to learn that she was actually battling advanced bile duct cancer, which had spread to her liver.
Megan, who hasn't yet turned 35, is the kindest, most thoughtful person you could meet—the kind of person who feels a real responsibility to the world around her. She's devoted countless weekends to helping shelter animals. She offers to babysit for free because she loves kids (and their parents). She even learned how to make her own soap because she heard recycling plastic was bad for the environment. As you can imagine, her diagnosis has hit all of us—Megan, myself, her loved ones—pretty hard.
I know that many of our readers have battled a horrific disease like cancer (or loved someone who has). Please know that my thoughts are with you. Witnessing Megan's battle, doing whatever I can to support her, I see the toll serious illness can take.
As an optimist, I'd like to leave you with this: Now, as always, professional wrestling offers me a measure of comfort through the dark and unknown. Whether you're a lifelong fan or someone who just picked up this magazine on a whim, I sincerely hope that the squared circle provides some light for you, too. And I hope that PWI, even if only in some small way, helps enhance and enrich your enjoyment of this beautiful sport/art form/catharsis we know as professional wrestling. Thank you for reading … and thank you for being a fan.