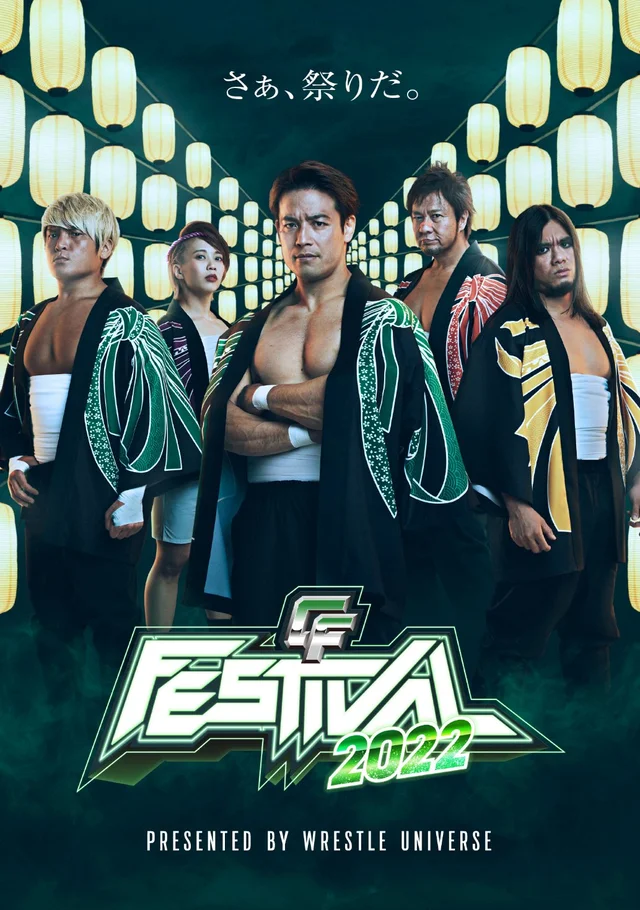 CFF22 Special Interview with Go Shiozaki
Ahead of CyberFight Festival 2022, several wrestlers from the CyberFight promotions are inviting everyone reading PWI to watch this special showcase event! After an outstanding run throughout 2020 and into early-2021 as GHC champion, Go Shiozaki would miss the inaugural CyberFight Festival as he required surgery. On November 28, 2021, he announced his return after the dual GHC heavyweight and GHC National championship match, which KONGO's Katsuhiko Nakajima and KENOH wrestled to a sixty-minute time limit draw.
In the main event of CyberFight Festival 2022, Shiozaki will defend NOAH's GHC heavyweight title against New Japan Pro-Wrestling's Satoshi Kojima. Shiozaki and Kojima will square off in a battle of chops and lariats, as GHC champion Shiozaki tries to smash the breaks on Kojima's aspirations to complete the triumvirate of top Japanese titles (IWGP, AJPW Triple Crown, and GHC heavyweight titles). With an exceptionally tight schedule, Mr. Shiozaki kindly provided a short interview about his upcoming match against Kojima and his responsibilities as he leads the charge for NOAH at CyberFight Festival 2022.
---
Karen Peterson: Unfortunately, due to injury, last year you were unable to participate in CyberFight Festival. What does it mean to main event such a large company showcase as GHC champion?
Go Shiozaki: I am honored to participate in this year's CyberFight Festival as GHC heavyweight champion and honored to be in the main event as champion. I feel great, and I feel responsible at the same time. I am absolutely the 38th GHC heavyweight champion, and I believe this is a great opportunity for me to show that "I AM NOAH" to the world.
Peterson: What has been your biggest challenge since returning to NOAH at the Nippon Budokan on January 1 at NOAH's The New Year 2022?
Shiozaki: Until I won this GHC heavyweight championship back, I had numerous challenges since I returned on January 1. But I can tell you that I never thought of giving up. I believed in myself and kept looking forward to recapturing this championship, and I did that on April 30.
Peterson: In the lead-up to this match, you've faced New Japan's Satoshi Kojima in multiple tag matches, something which has really brought NJPW fans' attention to NOAH. Did you ever expect to defend against someone like Kojima, who is looking to close to the loop on Japan's "Big Three" championships, having previously held NJPW's IWGP heavyweight championship and AJPW's Triple Crown championship?
Shiozaki: While I am with Pro Wrestling NOAH, I didn't expect to defend this title against New Japan Pro-Wrestling's Satoshi Kojima. But, when he appeared as "X" [surprise participant] at our Ryogoku event, I understood that a wrestler like Kojima—who has experience of being a champion—would pay attention to the GHC heavyweight championship, as this is a prestigious and valuable championship. He has held [both the] IWGP heavyweight championship and Triple Crown championship, however, I have no intention of giving him an opportunity to have this GHC heavyweight championship.
Peterson: What are your goals as GHC champion in 2022? Do you have any interest in defending the GHC championship abroad?
Shiozaki: "My goal is to put more value on this GHC heavyweight championship as the champion. I need to focus on the immediate goal, which is defending this championship against the upcoming challenger, Satoshi Kojima. And, of course, I have an interest in defending this championship around the world in the future, to make it more valuable.
Peterson: With CyberFight Festival being the biggest event of the year, and it being broadcast around the world, do you have a special message for the international fans?
Shiozaki: I hope more people know about NOAH, its competition, and the competition over the GHC heavyweight championship. I understand it is still difficult for our international fans to come to Japan and watch our live event. However, I hope all of you join our event through WRESTLE UNIVERSE and watch what is going on right now. Pro Wrestling NOAH and I will keep moving forward.
---
Bonus Round!
Peterson: Lately, you've posted lots of K-pop-related content on social media! What are your top three favorite BTS songs? Do you like any other K-pop bands?
Shiozaki: My top three favorites BTS songs are "Permission to Dance," "NO MORE DREAM," and "Outro: WINGS." So far, my favorite K-pop band is just BTS.
Time to add these Mr. I AM NOAH x BTS track recommendations to your Arm Day Workout Playlists, Everyone!! – K.P.
---
A full event CyberFight Festival 2022 report will be available at POST Wrestling after the show concludes, and a feature in the November 2022 Issue of PWI will be available in August.