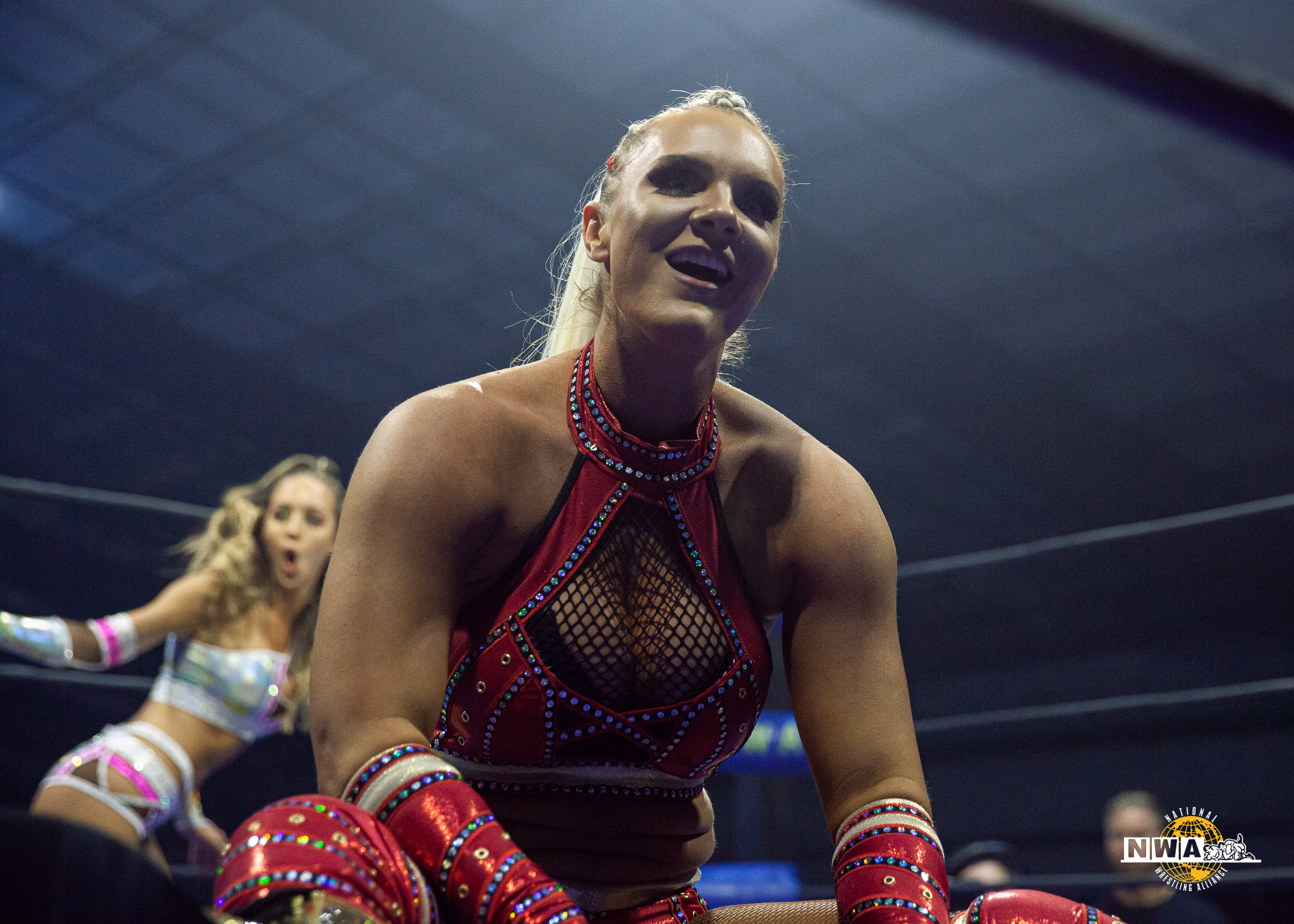 Why Kamille Must Defeat Taya Valkyrie at NWA 74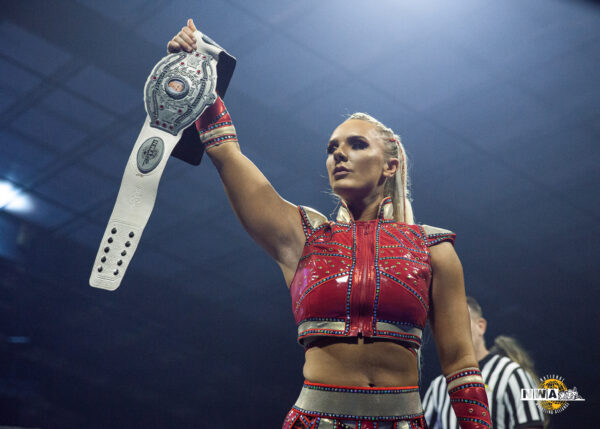 By Paul E. Pratt
"TO BE THE best, you've got to beat the best."
These are words one might expect from a challenger looking to fulfill championship destiny. Coming from Kamille, though, they hint at a National Wrestling Alliance Women's World champion with something to prove.
"Even though I've beaten some incredible people, I think I need to step it up a notch," admits Kamille.
Strange to hear from a woman who, during 400-plus days as the NWA Women's World champion, holds wins over some of wrestling's best. Yet, somehow, "The Brickhouse" is frequently overlooked in conversations about the sport's preeminent competitors—conversations that unquestionably do include many she's beaten during her reign.
It speaks to how slow the wrestling world at large is to embrace the powerhouse, perhaps simply due to lack of awareness. That could all change when Kamille defends "The Burke" against "La Wera Loca" Taya Valkyrie on night one of the two-day NWA 74 anniversary extravaganza in St. Louis.
"That's a marquee match-up people are going to pay to see," declared Kamille, in what seemed unintentional understatement. An ample number of fans might consider the August 27 pay-per-view bout a "Dream Match."
"This clash of giants is something the wrestling world will be talking about for a long time," agreed Valkyrie, calling a chance at the NWA Women's championship "massive."
"'The Burke' has been held by legends and trailblazers, and I want to be part of that legacy," Valkyrie told PWI. "Kamille's a total badass, but she knows there's a target on her back. At NWA 74, I will cement myself in the record books when a new champion is crowned."
Though stakes are undoubtedly high for the challenger, they're arguably higher for the champ. Whereas Valkyrie seeks to etch her name in history, Kamille needs to "cement" her place in the now.
Even after excessive needling, the NWA champ declines to speculate why others—Jade Cargill, for example, whose dominance as AEW TBS champion she praises—receive greater attention and accolades. She dismisses questions about her weekly Pro Wrestling Illustrated ratings ("I don't pay much attention to rankings. They're obviously flawed."), outright refusing to consider the upcoming PWI "Women's 150."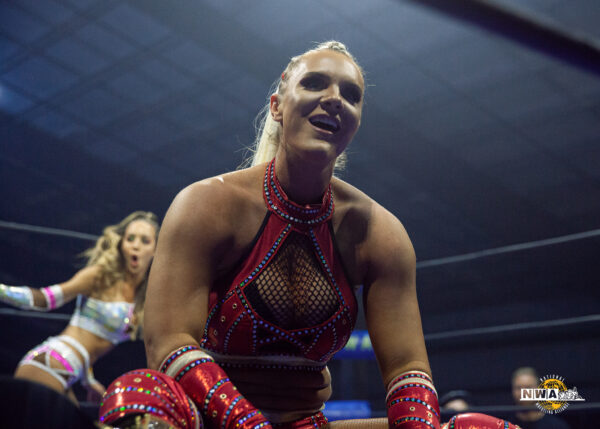 Though she's unlikely to ever admit it, the perceived snub must rattle a competitor of Kamille's caliber. Accustomed to the facts-driven worlds of other athletics, the one-time member of the Legends Football League found pro wrestling to be an entirely different … well, ballgame.
"My whole life, I've played sports—and I've been very successful," noted the former Division I softball standout. "In sports, you become recognized by the things you do, your stats. I never had to 'put myself over' to get recognition."
While "to be the best, you have to beat the best" is wrestling cliche, "perception is 99-percent of reality" when it comes to audiences (and perhaps media). It does not benefit a competitor like Kamille, who prefers that success speak for itself.
"You have to start the trend, and that's not who I am," said Kamille of being her own hype woman.
"I'm not saying any names, I'm not giving that tea, but there are plenty of people who put themselves out there like they're the greatest of all-time—and they're clearly not," she continued. "But people buy into it, start believing just because the person says they are so much."
Rather than proclaim greatness on Twitter, Kamille points to her track record. And, to be blunt, her stats as NWA champ rival any.
Kamille bested current AEW Women's World champion Thunder Rosa for a shot at the NWA World Women's title, defeating Serena Deeb for the strap June 6, 2021. She's since defended against Chelsea Green, "Legit" Leyla Hirsch, Melina, Kylie Rae, KiLynn King, Kiera Hogan, Taryn Terrell and more. And that's just within the NWA.
"I'm not just sitting on my hands, waiting for matches to fall into my lap through NWA," Kamille asserted. "I want to go out, work on my game, make a name by going all over the U.S.—and, soon, out of the country—and get the NWA name out there, too."
Outside NWA, she's overcome Deonna Purazzo in XPW, Allysin Kay, Shalonce Royal, Layla Lennox, Laynie Luck, Christie Jaynes, and more. While impressive, this list scarcely scratches the surface.Last December, Kamille defeated now-ROH Women's champion Mercedez Martinez under Battleground Pro Wrestling's banner. Game Changer Wrestling's Allie Katch came up short at Capital Championship Wrestling in March. At "The Gathering III," Rachael Ellering became her most recent conquest.
"Even though it's 2022, it's still the NWA," Kamille stated, alluding to the company's history of traveling World champions. She's carrying on a long tradition while adding her own legacy to the historical record.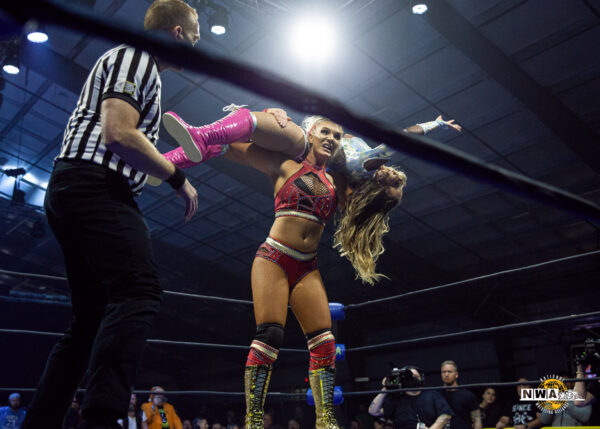 Though she'll likely never confess it, Valkyrie presents potentially Kamille's greatest opportunity yet. Defeating the AAA Reina de Reinas, MLW Women's Featherweight, and one-half of the IMPACT Knockouts tag team champions on NWA's biggest night could be a tide-turning statement.
It would veritably force inclusion in discussions about today's top stars. Unlike Deeb, Martinez, and Thunder Rosa, who had not yet reached the height of their current successes, Valkyrie is red-hot now … a fact nobody, particularly Kamille, can deny.
"Since leaving NXT, she's been winning titles everywhere she goes," said Kamille. "People are really behind Taya, both as a wrestler and a person. Facing her on pay-per-view is a blessing, the perfect opportunity to get people's attention."
It certainly is, especially for a champion looking to earn respect rather than demand attention. For Kamille, it is another step toward that goal.
"I've got to beat people like Taya Valkyrie, maybe go out and beat Jade," she suggested with a laugh.
"I have to beat Deonna Purazzo, which I already have, but I need to beat her on more of a grand stage," she concluded. "Then, rather than tell them, I'll show everyone what I'm made of—and that starts at NWA 74."