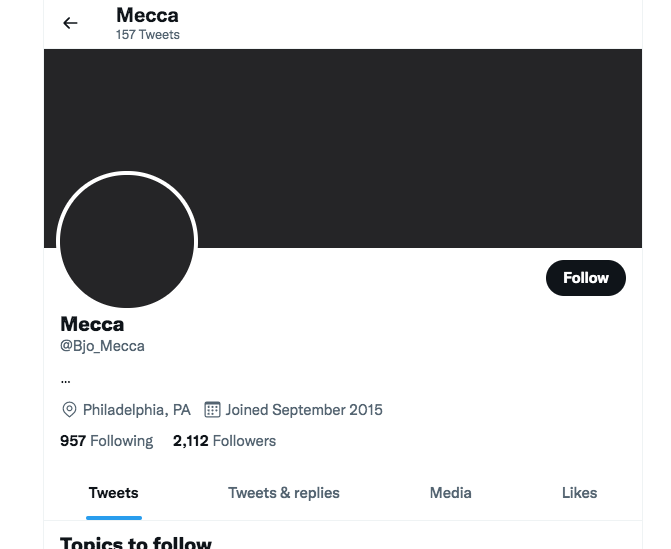 What, Exactly, Is Brian Johnson Planning?
"I have no idea where this will lead us, but I have a definite feeling it will be a place both wonderful and strange." – Dale Cooper, Twin Peaks
I KNOW BRIAN Johnson.
This isn't Brian Johnson.
If you've ever bought a ticket to a show that he was on or ever watched him on television, then you, too, know Brian Johnson … and you know that this isn't Brian Johnson.
Say what you will about him—and lord knows that many have—but the one thing you could never say about him is that Brian Johnson is a man who has nothing to say. That's why all of this is more than a little unsettling. And why I had to dig a little deeper into finding out the answer to the question that has been bugging me for several days now: "Why has Brian Johnson gone quiet?"
In the wake of last week's news that Ring of Honor would be going on hiatus following the December 11 Final Battle PPV and releasing all contracted performers, an outpouring of love and support went out to those affected by the news. Many current ROH wrestlers took to social media to thank the promotion for giving them an opportunity, but to also discuss their future. While it was a sad occasion, there was also some hope. Surely Brian Johnson, perhaps ROH's most outspoken performer would have much to say about this, right?
Wrong!
Instead of the usual vitriolic Johnson we have grown accustomed to, all we got was a retweet of ROH's announcement regarding going on hiatus, coupled with a quote from the man himself that said:
"Sometimes you can't put the emotions and the feelings into the right words. I'm going to need a few days to gather my thoughts. When I do, you'll hear from The Mecca."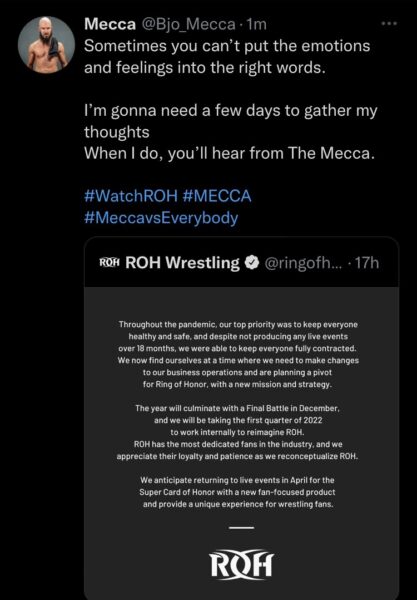 Sensing something unusual was afoot, I took the above screenshot.
It's now been more than a few days, and we have yet to hear from The Mecca. What's more, his entire social media has gone dark, and even the above tweet has been deleted along with all pictures and posts. Johnson's Instagram account is still active, but a tad unusual.
So, just what the hell is going on?
In short, I don't know. I have exhausted all methods of trying to get hold of Johnson personally and have had no response from the man. One of the benefits of working with Pro Wrestling Illustrated is that you can normally be put in contact with almost anyone in the wrestling business, but absolutely no one I have spoken to has heard from or seen Johnson, either.
It's not that anyone is being coy or secretive—they simply just don't know what's going on with "The Mecca." Every person, however, has echoed similar sentiments to PWI Editor-In-Chief Kevin McElvaney, who said, "This guy never shuts up, so this is very unusual behavior."
Brian Johnson is a loudmouth and a trash-talker. He's angry and he's opinionated. But he is also incredibly talented and has the chance to do big things in professional wrestling. So, you can be sure that whenever he does emerge, whatever he does next will be fascinating to watch. Until then, we wait with bated breath and wonder just what "The Mecca" has planned.