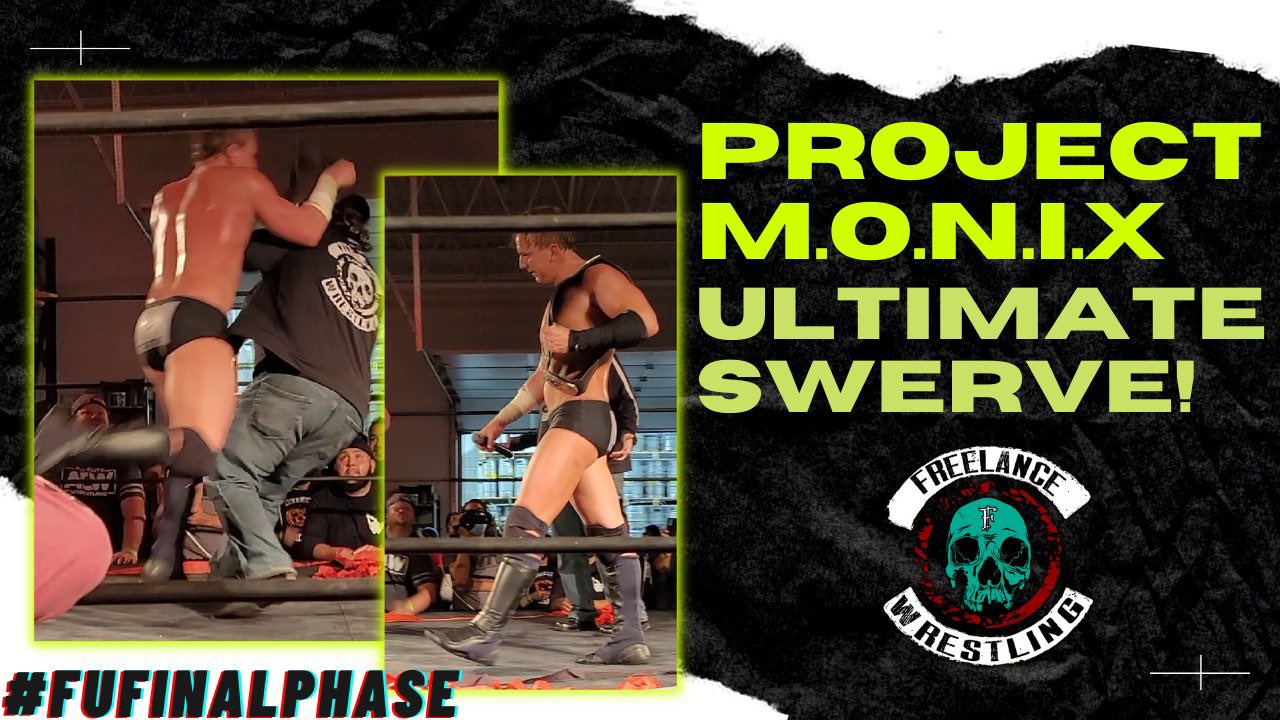 "I WILL NEVER RETIRE!" – After Shocking The Entire Chicago Indie Scene, Pat Monix Gives An Exclusive Interview To Pro Wrestling Illustrated About His Recent Faux-Curtain Call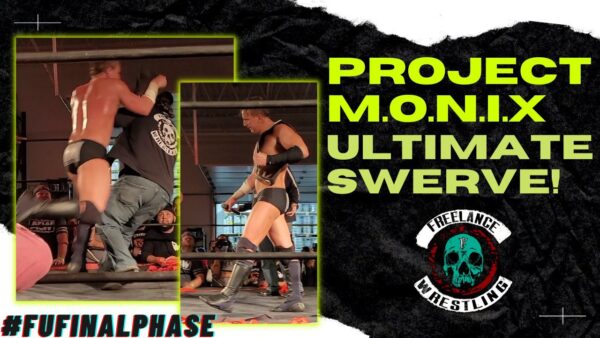 "CARD SUBJECT TO change."
It's a common phrase in pro wrestling—one used to make fans aware, in advance, that matches advertised might not go on. While, in the past, it's often been employed as a bait-and-switch tactic, nowadays, it's more frequently evoked as a result of travel issues, scheduling conflicts, or injury.
Or, in the case of Project (Pat) MONIX, a "retirement" that wasn't.
Monix, the focus of PWI's most recent "On The Indies" column and Chicagoland indie mainstay, announced that his October 23 Freelance Underground match—initially scheduled to be against Kylie Rae—would be the last of his career. Kylie had to pull out of said bout to take care of her health and well-being, but that's not the only thing that was "subject to change" about Monix's alleged Final Phase.
Freelance Underground's Final Phase event opened with then-champion GPA's open challenge, answered by rising star Calvin Tankman. Tankman dispatched GPA quickly, winning the title, and issued a challenge of his own. Monix chose to answer it, leading to the night's main event.
And, while Monix did not come out victorious, Freelance brass chose to honor him after the match by giving him the original Freelance Underground championship belt—a sort of gold-watch-gift-for-retirement nod to Monix's contributions to the company and to Chicago indie wrestling. However, Monix played everyone—Freelance Underground, the crowd (who had showered him with streamers ahead of his bout with Tankman), and even PWI— and went on the attack, both physically and on the mic.
There would be no retirement, but, rather, a rebirth. The "Final Phase" was instead the first step into a new persona for Monix, who has now declared himself the "Freelance Undisputed Champion," compared himself to God, and decided that "six years following the rules, 18 months of [injury] rehab, and one night" was all it took to create this shocking transformation.
In light of Monix (in his own words) "working" PWI, we have secured the supposedly final follow-up interview with the self-styled Freelance Undisputed champion. His comments follow and have only been edited for length and clarity.
On his decision to, essentially, play the long-con:
"In professional wrestling, the card is always subject to change. And this, quote, unquote, 'closure tour,' every single match that I was booked for, one way or another, was changed. This was a reminder that pro wrestling works this way. And, for a long time, I let pro wrestling work me. When I took a step away, and decided to take the step back in, I decided that I was going to work wrestling. So, when these changes took place, I was ready. I was prepared. And it didn't faze me one bit.
"When you're someone who gives their all to this, and you're someone who does all the right things, and you're someone who plays the game, it constantly plays you. There's a breaking point. And I hit that breaking point mentally, physically, spiritually, emotionally. And I didn't love wrestling anymore. And it was hard. It was a hard pill to swallow. Because it wasn't my fault. I did everything right. I showed up. I worked hard, I followed the rules. And that's just not how wrestling works. Wrestling will take from everyone over and over and over again. And I simply made a decision in my mind that I was never going to let that happen again. I'm doing this how I want to do it. I'm doing it on my own terms."
On Monix's match against Calvin Tankman and its aftermath:
"As far as wrestling Calvin Tankman in the main event, you know, going into a match like that, that this is a tall task. This is one of the most dominant wrestlers on the independent scene. So, going into that match, yeah, I had every intention to upset him, and beat him, and go out on top with that championship. But I had a feeling that even if I came up short, fans were going to react the way they did. I had a feeling the fans would react that way if I won, as well.
"So I already knew, win, lose, draw, going into that match, what it meant for me, and what I was going to do going forward when I was in the ring. And I was handed a token of appreciation, the original Freelance Underground championship belt. And the crowd reacting as if it was a gift and award and not what it actually was—a consolation prize—that was just the cherry on top. That was the validation of my own thinking that these fans don't understand what it's like to be in my shoes. They've never laced my boots up. And most of the people in wrestling hadn't walked a day in my life.
"Someone in the tier of wrestlers that I'm in, if you're an elite talent, and you have an elite work ethic, and you fully commit yourself to this industry, you're in a very, very small group of people. And that doesn't always get rewarded. So, when this crowd looks at a situation like that. Getting streamers, and getting applause, and seeing that people emotionally care about you—seeing people literally crying in the crowd, lots of people literally crying in the crowd—and then you get a consolation prize, you get a token of appreciation. All these people think that's something that you're going to be happy about. That was the moment I realized that I was right about, 'I understand how wrestling works.' "
Monix, on who he is, where he's at, and moving forward:
"I feel mentally, at a point in wrestling, where I'm a mastermind, I feel physically at a point in wrestling, where I'm gonna have the best match on any show. And I feel emotionally about wrestling, that wrestling can't touch me. And I feel spiritually about wrestling, completely ascended.
"So, when I had the microphone, and I had the championship over my shoulder, the crowd was cheering, crying, smacking, banging on the mat, I had every single person in there doing all the moves that I had intended. It was a checkmate. In that moment, I knew everything going forward is mine, it's on my terms. And no one can touch me. And, when said the things I said, after all that, they proved me right. Again, because then these people decided to cheer me.
"When I look at wrestling, and I look at the people that I was trying to appease, I was never going to win them over by playing fair, playing clean, following the rules. Everything you're going to see going forward is going to be on a whole different level. The Final Phase, that wasn't a show, that wasn't a match. The Final Phase is infinite, the Final Phase is forever; The Final Phase every single day going forward for Project MONIX is that mentality of living on your own terms. Being at the top will never end. And that is what the Final Phase was, is, and always will be—as long as Project MONIX wrestles, which will be forever."
As far as that original Freelance Underground title belt, which Monix initially referred to as a "consolation prize," it appears he now has a new perspective. After all, he is calling himself the "Undisputed" Freelance champion.
"I'm the Freelance Undisputed champion, because I did something that no one in Freelance Wrestling would ever be able to do, has ever done, or will ever do. I am the Freelance Undisputed champion; I was gifted a championship because I performed and existed on a level that, in Chicago wrestling, has not been touched, has not been matched, has not been seen.
"That championship being handed to me in the moment may have been perceived as something different by the people in the building, and may have been perceived a certain way by myself, and then perceived a certain way by the management handing it to me going forward. It represents the best wrestler in Chicago. It represents anything I want it to be, whether it's Freelance Wrestling, whether it's Freelance Underground. Anyone who wants to wrestle me, that title is going to be on the line. But it's my title, it's my championship. And I'm never going to lose it.
"Project MONIX is the Freelance Undisputed champion. The booker, the promoter, the people in charge, they don't get to pick who the champion is anymore. Because I picked, I made a decision that I was going to do something special in a world where nothing special is happening. Anyone who was there that night knows that it's fact. Anyone who watched the stream knows that it's fact. Anyone who reads this PWI article knows this as fact. Anyone who is in professional wrestling, right now, whether they want to admit it, whether they're on the independent circuit, or AEW, or WWE. They know it, too."
Subject to change, indeed.