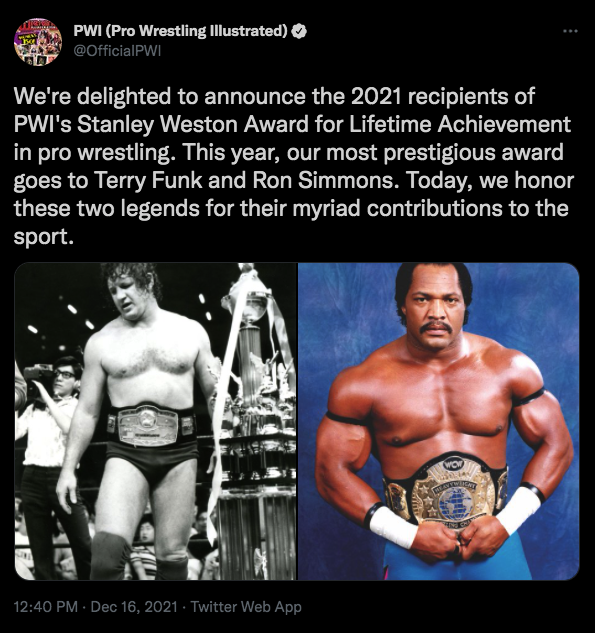 2021 Stanley Weston Award Recipients Revealed
Every year, the Editor and Senior Writers of PWI bestow upon one or more individuals the Stanley Weston Award for Lifetime Achievement in professional wrestling. Last year, Pro Wrestling Illustrated chose to honor Madusa Miceli and longtime PWI Editor/Publisher Stu Saks for their contributions to the sport. This year, we have once again recognized two individuals for their career accomplishments: Terry Funk and Ron Simmons.
The PWI Editors Award is a tradition dating back to 1981, wherein a single wrestler, promoter, manager, journalist, or other figure in the wrestling industry would be honored for their overall contributions to the sport of professional wrestling. The inaugural award was given to the legendary Bruno Sammartino, with Lou Thesz being the second recipient in 1982.
Today, the Award—renamed for PWI founder Stanley Weston—is the single most distinguished honor bestowed by our publication, as well as the only one of our year-end awards not determined by our readers.
Terry Funk is one of the most influential figures in the history of pro wrestling—a former NWA World champion, ECW champion, and holder of countless regional titles over the course of a career than spanned over 50 years. He is renowned for his toughness (including in wild, no-holds-barred environments) by fans across the globe, along with his colorful, unforgettable promos and many memorable in-ring encounters over the years.
Ron Simmons enjoyed a similarly expansive and influential career in the ring, with his most famous achievement being his WCW World heavyweight championship victory over Big Van Vader in August 1992. With that win, Simmons began a historic reign as the first widely recognized Black World champion, wearing a title belt that traced its lineage to the historic NWA title by Thesz, Funk, and so many others. He went on to additional success in the WWE, with multiple reigns as World tag team champion with Bradshaw and a WWE Hall of Fame induction in 2012.
We'll have more about these two greats of the squared circle in our April 2022 "Achievement Awards" issue, which hits stores in January.