THE GREATNESS CONTINUES
Keiji Muto Reigns In Pro Wrestling NOAH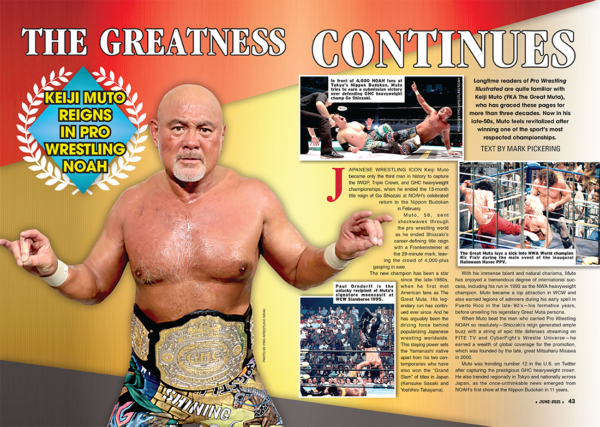 TEXT BY: MARK PICKERING
(This story was first printed in the June 2021 issue of Pro Wrestling Illustrated magazine.)
JAPANESE WRESTLING ICON Keiji Muto became only the third man in history to capture the IWGP, Triple Crown, and GHC heavyweight championships, when he ended the 13-month title reign of Go Shiozaki at NOAH's celebrated return to the Nippon Budokan in February.
Muto, 58, sent shockwaves through the pro wrestling world as he ended Shiozaki's career-defining title reign with a Frankensteiner at the 29-minute mark, leaving the crowd of 4,000-plus gasping in awe.
The new champion has been a star since the late-1980s, when he first met American fans as The Great Muta. His legendary run has continued ever since. And he has arguably been the driving force behind popularizing Japanese wrestling worldwide. This staying power sets the Yamanashi native apart from his two contemporaries who have also won the "Grand Slam" of titles in Japan (Kensuke Sasaki and Yoshihiro Takayama).
With his immense talent and natural charisma, Muto has enjoyed a tremendous degree of international success, including his run in 1993 as the NWA heavyweight champion. Muto became a top attraction in WCW and also earned legions of admirers during his early spell in Puerto Rico in the late-'80's—his formative years, before unveiling his legendary Great Muta persona.
When Muto beat the man who carried Pro Wrestling NOAH so resolutely—Shiozaki's reign generated ample buzz with a string of epic title defenses streaming on FITE TV and CyberFight's Wrestle Universe—he earned a wealth of global coverage for the promotion, which was founded by the late, great Mitsuharu Misawa in 2000.
Muto was trending number 12 in the U.S. on Twitter after capturing the prestigious GHC heavyweight crown. He also trended regionally in Tokyo and nationally across Japan, as the once-unthinkable news emerged from NOAH's first show at the Nippon Budokan in 11 years.
"I didn't mean to put myself in the situation, but I just saw the GHC heavyweight championship right in front of me. It appeared and came into my life," Muto told PWI. "When I realized that it was right in front of me, I started to become more passionate. I am now the GHC heavyweight champion, and it gives me a feeling of vitality."
Muto admits he never expected to complete the trifecta of the three most prized titles in Japanese wrestling. "The IWGP title is a symbol of New Japan Pro-Wrestling and Triple Crown is a symbol of All Japan Pro Wrestling. I didn't think about completing the set even a bit," he said. "I just focused on each title at that time. Although, I won All Japan's title while I was under contract with New Japan. But still, the Triple Crown was a symbol of All Japan Pro Wrestling. And now, I won the symbol of Pro Wrestling NOAH."
He continued: "A championship carries on each promotion's history and reputation, and I don't think it's good to mix together. I just pay respect to each and every championship."
NOAH's Executive Director, Narihiro Takeda, has rightly been hailed as one of the key figures in the company's resurgence. And Takeda is, himself, a former NJPW and AJPW official. "I personally started my career in pro wrestling at the NJPW vs. UWFi event, when Keiji Muto faced Nobuhiko Takada in 1995 at the Tokyo Dome," he recalled. "I carried the trophy out for the winner that day, who was Keiji Muto. This was my first job in wrestling after I moved to Tokyo."
Leading up to Muto's first GHC heavyweight title defense against Kaito Kiyomiya, Takeda reflected on his recent upset of Shiozaki. "There was a huge reaction to the result," he said. "It was very significant for us that this took place at the Nippon Budokan. And Muto joined Pro Wrestling NOAH officially on a two-year contract the following week, so there were different factors leading to this great reaction."
Pro Wrestling NOAH legend (turned Vice President) Naomichi Marufuji revealed at a CyberFight press conference that he'd been trying to sign Muto to a contract for some time, and the all-time great finally put pen to paper following his dramatic title win.Muto's signing was a big deal for the company, as NOAH looks to expand its international presence. "In order to drive the business forward and to catch up with NJPW, we can't just work in Japan," said Takeda. "We have to work harder internationally and develop our image throughout the world. In other countries, of course, Muto is well-known, and we think by utilizing him we can make our business bigger."
Takeda weighed in on New Japan's international notoriety, stating he felt Shinsuke Nakamura's defection to WWE actually helped the company in the long run. And that success informs his own approach. "We need to do bigger events. We don't want to lose anyone to WWE, of course, but we have to let the world know that we have a world-class roster and we want to do international events. We want to recruit the best foreign talent available, and we have work to do in this area."
"As soon as we move out of the COVID-19 pandemic, we will be looking abroad," Takeda added. "And it's our aim to hold an event in the U.S.A. as soon as it's safe to do so."
Of course, America holds a special significance for Keiji Muto, who would surely be a big draw for live crowds. To his credit, the GHC heavyweight champ is remarkably humble. "Honestly, all I can show is just the way I am. I just have to be myself, [and] do my best," he said. "I thought it may not be good for the pro wrestling industry if I come forward and challenge for the GHC title. I thought that it may cause the industry's clock to move backwards instead of moving forwards. [But] I am glad that I made up my mind to come forward to be the challenger."
When asked what the next two years will hold for him in Pro Wrestling NOAH, Muto remains grounded and self-aware. "I think I am the oldest wrestler at this level, and I am hoping that I can show something, that I can share my knowledge and experience through my unique style and my attitude. I really want to pass it on to other wrestlers." Muto, who had planned to compete in the U.S. and the U.K. in 2020 until the COVID-19 pandemic took hold, still wants to compete abroad, and to attract new fans to Pro Wrestling NOAH. "I hope that I can travel to wrestle around the world," he said. "But, for the time being, please watch me on FITE TV and Wrestle Universe."
For his part, the 58-year-old Muto sees great opportunity in these digital services. "Initially, I joined Pro Wrestling NOAH as a freelance wrestler, and I found that NOAH has all the promotional platforms that I wish I had while I was running WRESTLE-1, and, prior to that, All Japan Pro Wrestling," he said. "Utilizing this distribution system, I think NOAH fits the current market very well, and there are more possibilities to develop our live crowds, and online and international audiences."
"This is why I decided to join NOAH," he said. "I see immense potential in NOAH's future, and I encourage all fans to join us on our journey!"