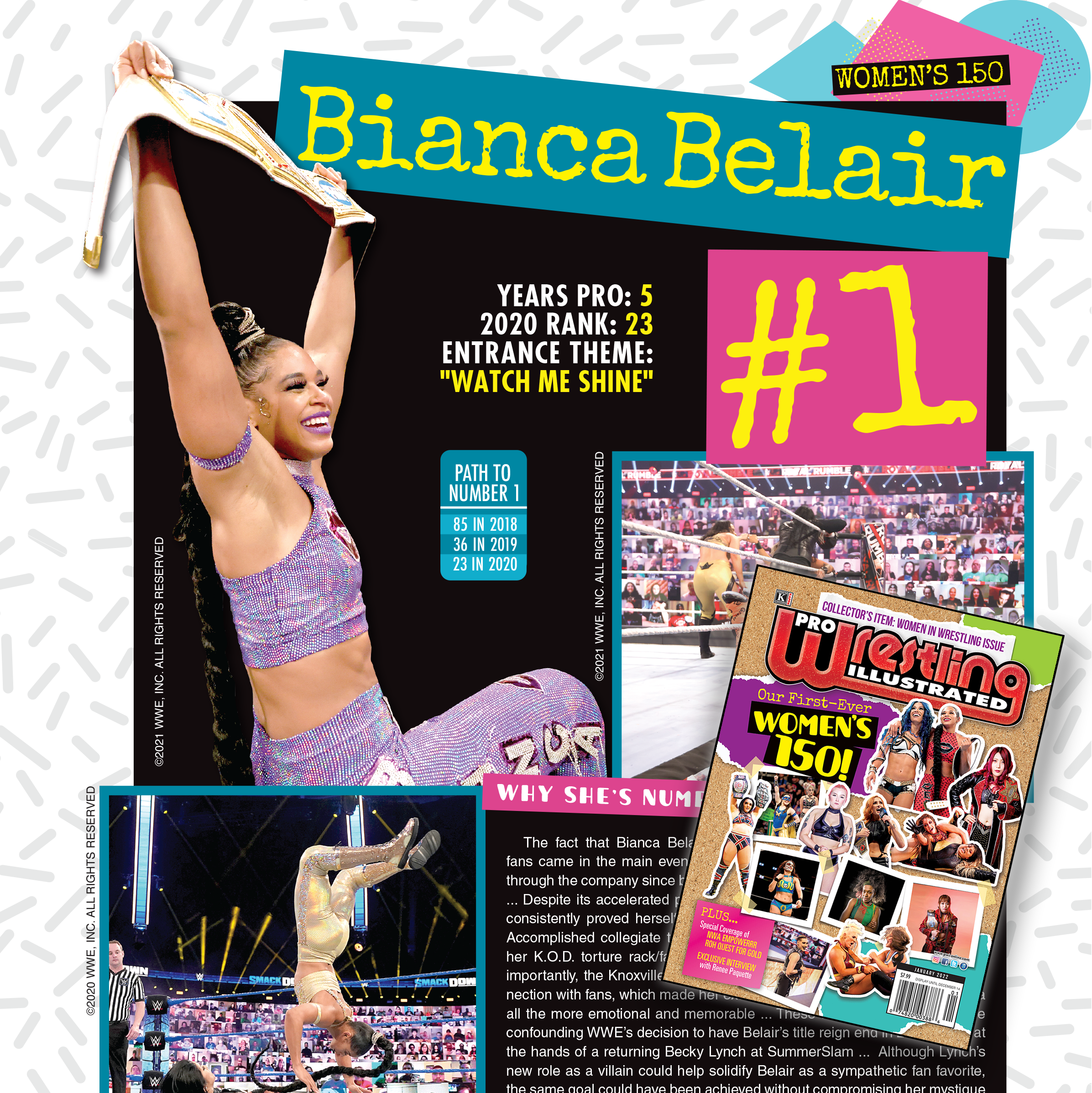 2021 PWI Women's 150 – The Top 5 Revealed!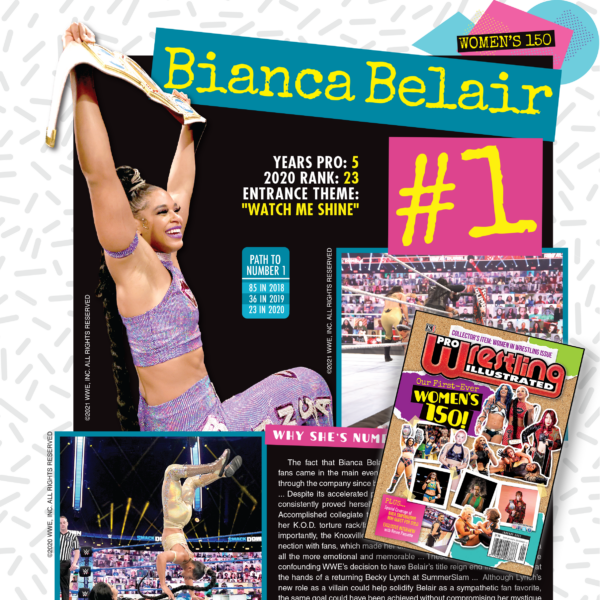 As revealed by PWI Contributing Writer Kristen Ashly on the latest episode of Renee Paquette's Oral Sessions, WWE superstar Bianca Belair is the #1 ranked wrestler in this year's PWI "Women's 150."
The January 2022 issue of Pro Wrestling Illustrated—available now for preorder—includes this year's ranking in its entirety, plus special coverage of NWA EmPowerrr, Ring of Honor's Quest for Gold tournament, and Ashly's extensive "Hotseat" interview with Paquette.
Belair, who memorably main-evented this year's WrestleMania against Sasha Banks, tops the list on the strength of that victory, her victory in the 2021 Royal Rumble match, and her prominent position on WWE Smackdown—along with a string of high-quality championship defenses and a remarkable win-loss record. Heading into her world title loss to Becky Lynch at SummerSlam, Belair had not lost a singles match since last December.
The number-two ranked wrestler, Utami Hayashishita, is a former runner-up for PWI's Rookie of the Year award (2019). The reigning World of Stardom champion at the time of this writing, she is the highest-ranked representative of a Japanese promotion in the history of our annual women's ranking.
Since its inception in 1979, Pro Wrestling Illustrated has been considered the world's #1 professional wrestling magazine. And, 40 years on, we pride ourselves on covering wrestling as both sport and art form. Our annual women's wrestling ranking, which is released each year after our much-discussed PWI "500" list, began in 2008 as the "Female 50." As women began to take on a more prominent role in North American wrestling, the list expanded to become the "Women's 100" in 2018.
The "Women's 150," which focuses primarily on the in-ring success of wrestlers competing in women's divisions and promotions, is based on the evaluation period beginning October 1, 2020, and ending September 30, 2021. In order to qualify for the list, wrestlers must have competed in at least 10 matches or, if less than 10 matches, in six bouts in six separate months during the evaluation period.
Criteria for the "Women's 150" list included:
In-Ring Achievement (championships, tournaments, win-loss record)
Influence (in one's home promotion and the industry at large)
Technical Ability
Breadth and Quality of Competition
Activity
For posterity, here are the top five wrestlers ranked in this year's "150" issue:
Bianca Belair
Utami Hayashishita
Deonna Purrazzo
Britt Baker
Thunder Rosa
CLICK HERE to preorder the print edition of our January 2022 "Women In Wrestling" issue, which contains the "Women's 150" list in its entirety. It ships out to subscribers soon, followed by internet preorder customers. The magazine will be available on newsstands beginning November 9, 2021.